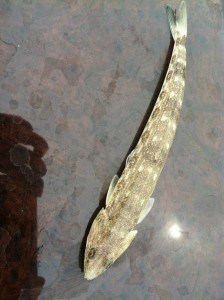 This has been a great weekend, sitting around, and promoting the raffle.  I met a lot of people, and had a great time talking with all of you.  We will draw the winner in about 5 days I have to collect and correlate everything.  That takes a little time, thank you for your patience and participating.  While I was at Rick's Bait and Tackle Captain Mike Behney was catching flounder, triggers, and sea bass out front.  We had a lot of excitement this weekend, the Long Neck Business Association had their annual celebration in Pot Nets Bayside.  The fireworks were cool, a tad short, and earlier then announced.  There was an accident today in the Indian River Inlet with 2 boats, no one was hurt, and you can read about it on the Indian River Volunteer Fire Department website.  Just a heads up, everyone has been emailing, and Facebooking for details.  A couple of exciting catches occurred the other day.  An 8 inch lizard fish was caught by John Schnaitman of Wilmington ,DE outside the ditch at Massey's Landing with squid on a spot rig .  Also a juvenile amber jack,  CORRECTION: (From Dewayne Fox of DSU … I looked at the image and then contacted a colleague of mine (Eric Hilton- Virginia Institute of Marine Sciences). Eric got right back to me with an ID. What you have here is a fine specimen of Caranx crysos (the blue runner). Eric said that Seriola (genus of amberjacks) doesn't have scutes. C. crysos has a small mouth, and the dorsal and anal fins are near mirror images.)   This  jack was caught by Jim Schlegel in Rehoboth bay.   He sent us the picture to ID … "We caught and released this in Rehoboth Bay does any one know what kind of fish it is?  Caught on the incoming tide, south end of Rehoboth bay by sandbar on blood worm fish bite, it was 8″ thanks again for the info."  No Jim, thank you for the picture, and report.  We like to know what is going on out there, when we are elsewhere.  DSF helps people as much as we can, to bring you reports, and to watch dog our waters.  With the help of our readers (you), whom are concerned for the environment.
Sunday, there was a fish kill in the Broadkill.  Mike Czetli messaged us on Facebook … "Ok, not sure if this has been covered yet, so here we go.  Does anyone know why all the fish are dead in the broadkill. There is floating foam every where. Pulled the pots today after a 36 hr soak and 50 dead crabs." … Another reader posted he was having a problem in the Misspillion River with dead crabs in traps, if soaked for over 24 hours.  Dead pompano were spotted floating in Massey's on Saturday morning.  The entire Indian River bay, in the morning (Sunday), smelled like dead fish, according to several residents of Pot Nets Bayside, including admin 1.  The water in the Broadkill was described as being very foamy, and smelled like dead fish.  The fish in the picture sent to us was very red "streaked" on the side.  DNREC was alerted, and we will try to follow up when they know something.  Never know what this could be from, the heavy rains and run off possibly.  This is one of the things I have learned from the Center of the Inland Bays, impervious surfaces … roads and parking lots, are a problem.  From Chris Bason Director of the Center for the Inland Bays … "Fishkills in our area are almost always caused by nutrient pollution. Fertilizers and runoff build up in the waters over time and cause algae blooms. The algae and decomposing materials in the water use up the oxygen in the very early morning. Fish can get confused and then die. Hot weather and cloudy days increase the chances of deadly conditions. The chronic effects on fish growth and reproduction are also important. Water quality buffers on waterways, wetland preservation, and cutting back or out on fertilizers can help, and residents need voice their feelings on thier waters."   Thanks Chris.  Just in from FG&W … "At this time the scientists have documented approximately 7500 Atlantic Mehendan, 10 Striped Bass, 8 Carp and 1 speckled trout were killed. Low dissolved oxygen levels documented by the scientists most likely caused the kill. The investigation is ongoing"  Thank you to everyone,for sending us information on this, and participating in the discussion on our DSF Facebook page.  Proud of you for caring,  helping, and keep it coming.
Yesterday in the surf Justin Smeltzer and Matt Kent were catching … "Blues, Spot, Redfish, and Pufferfish (burr fish aka spiney box) @ Cape Henlopen Point.  Spot caught on Fishbites bloodworm all day. Blues caught on shade gulp and white gulp."….  Chris Fortner and his parents Saturday at Fenwick were catching … spot, kings, blues, pompano, and dusky sharks on blood worms.  Yesterday on 3R's Keith Barone  was catching … "Top bottom rig seems to have slowed down a bit.  Total so far 6 snapper, one trout"  Saturday at Cape Henlopen Pier … Weston Finerfrock … "Hey I talked to you on Saturday at Ricks, we used your advice about the old pier in cape henlopen, and smashed the croaker." …  Good Stuff!  Glad that worked out for you boys.  Today in the surf Chris Guest is hammering kingfish and posted a pic of a 14 incher, at the Point.  Nice hit there.  I just left the Indian River Inlet, the blues were hitting white bucktails with white worms.  A 23 inch striper was landed this morning.  I watched a young man having difficulties fishing the rocks, and one of the "daily locals" there helped him out.  He was helped because he was polite, and asked nicely.  The guy walking around, loudly complaining that it was big mistake trying to fish here, and continued to whine and moan, loudly.  Hooked into the rocks in seconds on his first cast.  That is the type of person whom will not receive help.  Just in case you are reading this, 4 x 2 ounce bank sinkers, looped through a leadered hook, with enough squid on it to choke a 30 pound striper.  You're not fishing, you are doing it wrong.  Also walking with the rod slung over your shoulder with the hook and weight swinging freely, that too is a big no no.  Even the young man whom just learned from the locals, told him he was doing it wrong.  There is always one.
My buddy Dave from Greensboro, NC is sailing along the coast, and sends me pictures once in a while to see if the fish he caught is edible.  Usually it is something common, and he eats the fish.  The other day he sent us a picture of a ribbon fish, something I have never seen before, except in books.  We posted it to our Facebook page, and everyone freaked out, because at first they thought we caught this in Delaware.  This fish was caught near Cape Fear.  Also caught in North Carolina yesterday was a barracuda, and it was released after a picture was taken.  So swimming with barracudas, could be a new hazard this late in the summer, or the title to a B movie.  The waters are very warm, and we are seeing a lot of weird fish in our area.  Speaking of out of place fish.  A Mahi Mahi was caught off the coast of Oregon, yes the state.  I am still waiting for someone to catch a Tarpon from our waters.  I have heard of barracudas rumored to be near the anchorage.  No proof, just talk.  Believe me, I talk to a lot of people on a daily basis, and this has come up more than once from different sources, of the same story.  Somebody go catch one.  Might have to ask Captain Chuck Cook of First Light Charters to do a little scouting.
Mike Basehore and Jamie Speraw Fished yesterday in Maryland … "Hammering flounder on incoming tide at 50 bridge in OC.  On minnies for those interested.  Also black sea bass one after another, little ones."  Saturday they were on Assateague Island surf fishing … "Lots of people. Blue fish, croaker, and I hit the biggest needle fish I ever caught on a spoon. Felt like a 6 pound blue when it hit. Horses on beach were awesome. Girlfriend got cool picks. Storm blew in and we bounced out. Also heavy with spot. Darn things were right on our toes. Catching them 5 feet in front of us on blood worm, and little shad spoons."  I need to get over there this year some, Kristen will have to drive, she has the tag.   I had a blast meeting many of you this summer, and now the "local" summer begins.  Someone said … it is sad summer is over, you guys won't have fish to catch.  Brother you have no idea what the fall is like here, big fish come soon mon!. The fishing in Delaware has been so good this year, weird, and is just "amping" up.  Why would I want to go anywhere else?
Fish On!!
Rich King