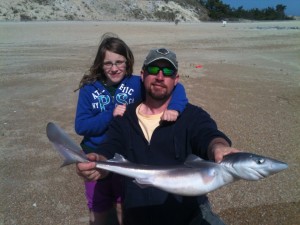 Well we had an awesome weekend in Delaware fishing.  The blue crabs have started moving around, showing up in crab pots, and clamming is still excellent.  The striped bass are starting to move around and show up in the surf.  These are our resident bass that are schooling, and getting ready to head up north as migratory striped bass.  Not all the residents will leave, or run, but they will be just as active for a while.  The surf blew up over the weekend for shorty striped bass we have a lot of pictures on the DSF Facebook page.  Bloodworms and bunker chunkin has been the best baits.  Steven Williams was fishing Indian River Inlet on Saturday morning and snagged a shad while throwing bucktails for striped bass.  A couple of guys I talked with at Massey's Landing also caught a few shad at the inlet that morning.  Dave LeCates was surf fishing in DSSP with Kristen Kemper, and caught a kingfish, that is great news to know they are here as well.  Skates were abundant on all of the beaches as well as spiny dogfish.   James Blackstock was surf fishing Cape Henlopen with his daughter Chloe, she caught and released her first spiny dogfish.  James said she has been fishing with him since she could walk and just loves it.  That is great to hear when kids are getting into fishing and the great outdoors.  We see less and less kids fishing these days.  We hope to help change that with some events we have planned for this summer.  DSF Pro Staff and friends will be helping with many kid's events this year as volunteers.  I just sent some folks at Fish and Wildlife small circle hooks for a program they are doing next week, supplied by Rick's Bait & Tackle in Long Neck, DE.
The one thing we all want to know … When are the striped bass going to start moving?  In some areas they are already starting to move up north.  Some folks farther up the Delaware River have been hitting keepers and citation sized striped bass below the spawning grounds.  With the shad on the move the stripers will be soon to follow.  We have been following them via reports from friends up and down the coast, not just Delaware, but the entire east coast.  The boys in Jersey are hammering them in the surf as well.  The flats at Susquehanna have been hot, and producing some very large cows.  The fish are going to start moving any day now.  I have been meeting CJ Jarrell of Striper King Gear on the Delaware bay beaches.  We know we can catch resident striped bass, but we are looking for runners.  He knows where they will show up first, and he is a heck of a cook so that is a bonus when on the beach.  I have been torturing our Facebook friends with pictures of the grill's bounties.  Excellent food and good times in the surf with great people.  I am looking forward to dinner every night this week (that is a hint CJ!!).  The other day we saw hundreds of birds working the water, that gets us very excited.  Ray Hibbs of Long Neck Outfitters has been joining us in our search for the running striped bass.  I have been chillaxing comfortably on LNO's sand stools and I am product testing them.  I need him to make me one for my computer, I need a desk for my beach office.  No one saw the northern lights the other night, but I had a great time sitting on Broadkill Beach waiting for them.  It reminded me of the 2 months I stayed at Broadkill, house sitting for Cari and Greg.  Watching the floating cities out front (ships at the anchorage), with the light houses turning.  Clear skies and tons of stars, it really gives one time to put things into perspective and reflect.  This is the best job I have ever had in my life.  I want to thank all of you for reading and supporting DSF.  I met many people this weekend that are very grateful for what DSF does … keeping them in touch with their favorite places.  I appreciate all of the kind words, and it is motivation to keep on keeping on.  Thank you all!
Our thoughts and prayers go out to the city of Boston, during this tragic event.  A huge thanks to our first responders up there, you people rock.  When everyone was running away from the scene, they rushed in to help people before anyone knew what was going on, that is a very brave and selfless thing to do,  Thank You all!!
Fish On!!
Rich King