Rehoboth Beach Replenishment Aerial Photos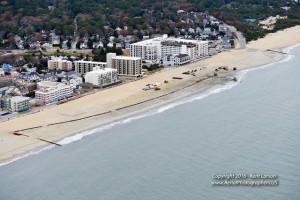 "If you enjoy our information and website please consider buying a sticker from us to help support our efforts, https://www.delaware-surf-fishing.com/pay-online .  If you are interested in reaching our readers contact us about advertising, https://www.delaware-surf-fishing.com/advertise-with-us/ .  There are over 600,000 yearly readers on Delaware Surf Fishing."
I called up Kent Larson the other day and asked if he was headed up in the plane anytime soon.  I told him I have been calling everyone I know with a plane or helicopter.  I could hear him smiling on the phone, he knew what I wanted.  He said, "As a matter of fact I don't have to go up soon, but I can make a special trip if you need me too."  I said yes please, I want some aerials of the replenishment, please be gentle on the cost.  I can't fly a drone in Rehoboth Beach and the pictures are not as good quality as you can take with a real camera anyway.  So he went up the other day and got these killer shots.
If you didn't know, the beaches are being replenished in Rehoboth Beach and then part of Dewey Beach.  The project started a couple of weeks ago and they have made some serious progress.   By the way the sand is picked up by the barge ship from site B offshore in front of Dewey Beach, and then pumped onto the beach from the barge.  That is why work stops on occasion until a new barge can hook to the pumps.  In two of these shots you can see the load of sand in the barge.  I overheard someone the other day at the Rehoboth boardwalk tell their friends that the ship is where they make the sand for the beach, you can't make that up.  Enjoy these awesome aerials.
Fish On!
Rich King
*use of these photos is prohibited without written permission from Delaware Surf Fishing and Kent Larson.