Read The Beach Find More Fish
People starting surf fishing just need to learn to read the Delaware beaches.
The most intimidating thing about surf fishing, besides realizing you are standing on the edge of the Atlantic ocean, trying to not look like and idiot, is catching fish.
Finding fish is the second hardest part of surf fishing, especially in Delaware. We have a unique shore break, unlike New Jersey and Assateague Island.
Delaware's waves break close to shore and stir up food for fish. The fish feed close. Unlike the other states' beaches that have more defined troughs and sand bars (structure) with a much flatter and wider surf area. Just like it looks on a Delaware beach during a storm or with heavy winds. That wider storm wash is more like the other states beaches. At a dead low tide after these storms is the best time to read the beaches to find more fishing spots.
In Delaware the fish are mostly close to shore. When you walk into the surf and suddenly drop off that small sand ledge, that's where the fish feed. After storms it is the area you sink up to your knees in shells, sand, and rocks. Stirred sand is a buffet for fish.
Since our waves normally break close to shore, creating small subtle structure, finding a cut is the key to finding fish. Cuts are the area where the water left by the incoming waves drains back into the sea. You can see these cuts when they produce a plume of sand shaped like a mushroom as the water drains out. The stirred up sand creates that pattern. Learn to not cast too far, you are overthrowing your fish.

Another easy way to find these cuts is look at the beach's profile. When the beaches are under normal conditions. The edge of the beach looks scalloped, Those dips or drops between the humps of sand are the cut, the sand hump is the sand bar. These are small here, but we have some that are really defined. You will have to find those on your own.
The weak spot in the waves is also a good indicator of a cut or structure. The wave loses momentum due to the draining water and doesn't totally break. Sometimes structure indicators are very subtle due to calm surf. Four inches in height difference of a sand bar or the scallop edge is structure.
GPS your spots. Back in the day we would hang lures on the fences to mark spots, or remember dune profiles, and phone poles.
You learn to find this structure, however subtle, by reading the waves, beach, and currents. Rip currents are one of our favorites for Delaware. These really carve up the cut area of the beach where they form and create moving structure. Stirring up food and usually hold fish. Just don't wade into rip currents and you don't need to anyway.
Surf fishing a cut is simple. Cast a line on each side and out in front of the cut. If there are fish you will catch and know where to concentrate surf fishing. Cuts and rip currents have stronger currents be prepared to use more weight to hold in faster water. The more exaggerated cuts will be stirred up and your pyramid weight will sink quickly in the sand. Check your line often or you will play hell trying to break free. In Florida surf anglers call the cuts, run outs.
If you are casting lures, cast across the cuts, as many as possible. Starting just above the top of a cut on the far side. This puts your lure in play for more fish. Casting straight out makes less of a window for a bite, but a rip current pushes water and food out far. Casting out along large rip currents is a good place to look for fish.
Casting along the beach allows more exposure to fish and you can pull across a couple of cuts. Just hard to do on crowded weekends. That's why we fish Tuesdays to Thursdays in summer. Casting about thirty degrees along the beach is the best to hit a few cuts.
If you can get out after storms you can find these cuts easier and mark them on your phone's GPS. This makes it easier to find the good cuts when the conditions are subtle. The cuts rarely move or change location. However the cuts will change in structure or shape as the tide shifts. You can mark them and be sure to find them again in the dark. This is key if you decide to go out before sunrise, or walk and cast at night.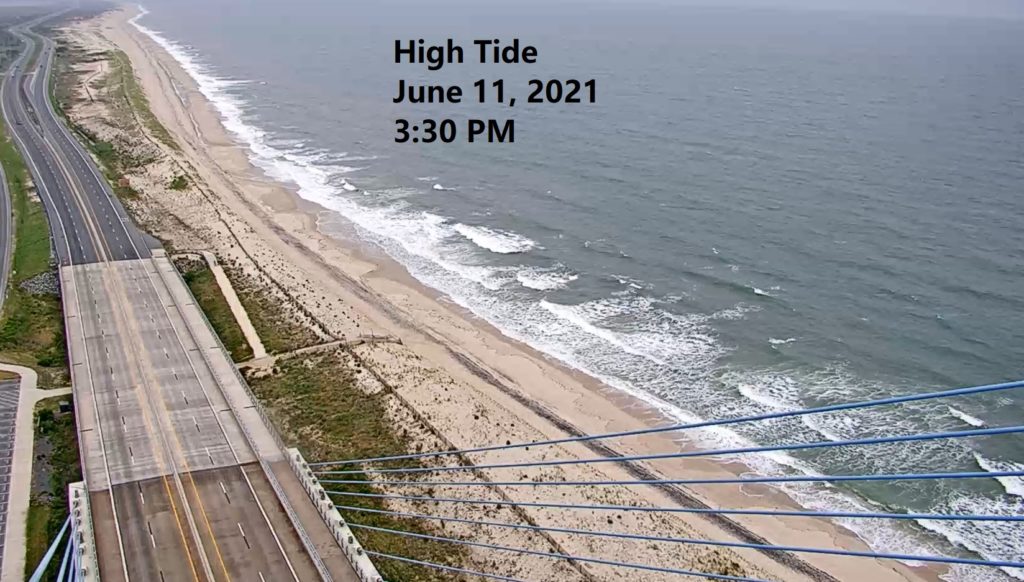 Learn to read a beach it will help you find more fish or at least the areas that will hold fish. Keep an eye out for rip currents, these are great for surf fishing. During rip current warnings we go looking for large rips.
If you use the Deldot traffic cam (web cam) on the north tower of the Indian River inlet you can watch the cuts work from above and check surf fishing conditions. The beach web cams are good for that as well. There are some nice cuts on Rehoboth Beach you can observe on the web cams.
Structure created by storms will remain for a couple of weeks most of the time. That all depends on the frequency of storm surges and wind.

Fish usually move from cut to cut looking for food, or foraging. Sometimes fish sit on a cut full of food and then move on, that part is hard to predict.
You don't have to always move around surf fishing looking for new cuts. Sometimes sitting still is best and just takes time for fish to drop by. Pay attention to the water all the time. You never know what you will see, it's a big pond.
While surf fishing we all pay attention to our neighbors catching. If you really pay attention, you can see fish move down the beach. Look for that bait slick in front of the beach. That is literally the fish "highway".
Watching the black drum in spring a few years ago at Beach Plum Island state park and the gator blue fish runs. Anglers were lined up, while rods get nailed like dominos down the beach. Watching and waiting for yours to get hit next.
The gator run one year we watched, unattended lines, get nailed and cut, again like dominoes down the beach. Then we would get ready with spoons and start casting. While casting once in a while a line would blow by you in the wind, wafting like a spider line. Cut by a gator bluefish while the oblivious owner is busy playing cornhole. That was entertaining during that huge bluefish run for a couple years. Sucked for the fish though, wearing all that gear until it rusts off or they tangle up and die.

Anyway …. learn to read a beach .. hope this helped.

Fish On!
Rich King

Catching Flounder In The Delaware Surf

Reading The Beach To Surf Fish