GREETINGS AND SALUTATIONS!!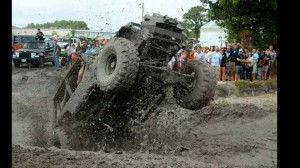 The Southern Delaware Jeep Club (SDJC) was founded in March 2014 by Tyler Hillcar, Andrew Judware, Mike Perry and Jay Rively. These gentlemen have a passion for everything Jeep and wanted to come together with those like minded Jeep owners. Since its inception the club has been involved in different events such as "Meet & Greets", "Charities", "Show & Shines", "Off-Roading" and More!  Membership to our family costs nothing but to simply ask and share whatever knowledge you may have regarding the Jeep world. Additionally, if someone feels a little overwhelmed with their respective project, SDJC offers wrenching parties throughout the year. This is where we as a club get together and do everything from oil changes to lift kits.  All our events are family friendly so kids are welcome. After all they are future Jeep enthusiasts. Besides getting your hands dirty, people usually chip in for food and beverages that makes for a great day and often extends into the night. This allows us all to get to know each other a little better and grow as a club.
We at SDJC want everyone to have great summer enjoying the outdoors. Summer is just a couple more months away. With that being said; we are sure several of you will be heading out to enjoy the Delaware Seashore for some surf fishing. We want you to have a great time out on the beach but we also want you to have the right equipment for going out on beaches. Nothing ruins the day more than getting your vehicle stuck or checked by Park Rangers and not being allowed out onto the beach because of not having the right equipment.
So please make sure before entering onto the drive on beaches you have the following equipment as required by Delaware Law: Your 2015 Surf Fishing permit, Delaware Fishing license, boards (preferably 2″x8″x24″), 20 foot to 30 foot tow strap (Please No Chains. Safety first), a shovel (The kids toy shovels do not count.), fishing rod and bait, and a  jack.
Thank you for reading this article and please continue to come back to DSF for more information about Us, "How To's", Tech Tips / Off-Road Tips and Future Events. We look forward to meeting each and every one of you at our events, so come up and say "Hello". We can be found on the Web at www.southerndelawarejeepclub.com and on Facebook at Southern Delaware Jeep Club. Come join us at our events for a great Family Friendly Time and "Keep on Jeepin"
SDJC