It is 50 degrees this morning, fall is definitely here to stay.  We fished a little this weekend, and ran around a lot, seeing people.  Pompano and reds are still in the surf, as well as ling or spotted hake are showing up at the point in Cape Henlopen State park, so go figure on the 71 degree water temps.  The Baldwins were there this weekend, no not "those" Baldwins.  Kevin and his family fished for nearly 14 hours on Saturday, and were pulling kingfish, pompano, redfish, blues, and a ling.  He was using fish bites and squid, this year fishbites seem to catch everything.  There were people all over the point and Herring point this weekend in Cape Henlopen State Park.  The bluefish blew up Herring point beach yesterday, nice blues.  Captain Mike Behney caught a deformed bluefish, and sent us the picture.   It looks like the back was broken, and it healed funny.  That is one alpha fish to put up with that deformity, in a school of voracious consumers.  The boys in Jersey are hitting very large blues in the surf, we are hoping this NE wind pushes them close to us.  Instead of going past us, out front.  Time will tell, and from the looks of things, that time comes soon.
Saturday I was supposed to run around and see people, but I knew route 1 was going to be horrible for traffic.  I decided to stay at Broadkill Beach, and try out the Jackson Cuda Fishing Kayak, I borrowed from Delaware Paddlesports on coastal highway in Lewes, DE.  They let me test "beat" the fishing yaks once in a while.  We put the Coosa through some serious surf fishing for sharks, she took the beatings better than I.   Lazy bay, river and canal fishing in the Cuda for this trip.  I happen to be, only a mile by sea, from the point, and a 1/2 mile from the Roosevelt Inlet.  I will let everyone know about that excursion.  Tom came down to fish the bay in his yak.  He has a blow up kayak, which is cool, but on a windy day, he was a balloon on the water's surface.  That thing really moves in wind gusts, I thought I was going to have to go get him, or find a motorboat.  Admin 1 got in a day of fishing, we were all skunked.  There were tons of fish moving in front of us, but the bait was too thick to compete.  A few of us tried an overnighter Saturday night, but we were rained out and skunked.  Friday night's overnighter, I didn't make it past 11 p.m.  The snoring was louder than the surf apparently.  We did catch a few croaker, spot, and dogfish. …. UPDATED …   This remora was caught by Brendan Welch in late august with squid on a top and bottom rig near Fenwick Island at a drive on beach…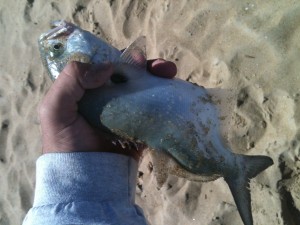 A couple of remoras were caught in the surf this summer as well.  One late in August and the other over Labor day weekend.  We do not have the details just the pictures on our DSF Facebook page.  I am working on them as I type this, and will see what we can find.  The surf was really rough yesterday, even in the bay.  So I opted to hit the Indian River inlet and watch John try to fish the end of the north rock pile.  WOW!  I was on top of the Charles W. Cullen bridge taking pictures, when he drove by and beeped, actually a lot of people beeped.  I watched that water being pushed across the rocks by the wind, this was at low tide, and looked scary.  I hurried back down to the south side to get ready for this.  That rock wall is dangerous, and with a NE wind pushing water up against it, not a good place to fish.  John was all cleated up, and had his Gorton's Fishermen waders on, yes we rag on the yellow waders.  I watched him go out there, stop for the breakers across the rocks, then move to the next section.  I have some great shots of him, with waves crashing all around.  I left the south side to head north for some more shots of the waves washing over the wall.  The pelicans were out there trying to feed on rather large bluefish.  There were a decent amount of people on the rail yesterday.   Catching reds, sheepshead, bluefish, and shorty stripers.  Mostly on sand fleas, metals, and bucktails, the blues are hitting poppers.  I did see some monster bluefish pictures yesterday taken from the rail in the past 2 weeks.  By the time I made it out front John was already off the rocks, soaking wet, and thinking about going back.  He didn't, he knew it was too rough.  I stood around and chatted with the local boys, then went back to Broadkill Beach.
Mike Andrew's buddy Ralph Ripoli's youngest son Trevor, took 3rd place yesterday at the Fall Classic surf fishing tournament.  He caught a 14 inch bluefish, and it was funny to hear Mike tell the story.  Trevor was all "puffed up" back at the campground, excited he won, and happy with his new gear.  This made the whole weekend for them, that little man is all wound up, and has a great story to take home to his friends in school.  Fishing, that is what it is all about, having fun with your family and friends.  Winning was a bonus, that he will never forget, and cherish his whole life.  Mike gave me a "invention" of his to try out, and I can't wait to show you this contraption.  Makes getting those PVC sand spikes into the ground, a zero effort.  I was impressed the first time I saw it and still am, not to mention the dual PVC rod holder he has, wait till you see this thing, there are pictures on our DSF facebook page.  I love some of the things you kids come up with, I think the shopping cart on the Cape Henlopen fishing pier with the rod holders is still a classic.  I have a walker that has wheels and a seat, and I always look at it and wonder what kind of gear could I rig up on that thing.  Then I remember the saying about crutches, if you play with them, you will wind up on them.
Fish On!!
Rich King
RAFFLE WINNERS … I am mailing the 4th to 10th prizes, it is proving to be easier.  I will contact you all this week, thank you.  A few of you are having yours delivered by friends, thank you for your patience.  We are a tad busy.