We had an awesome Labor Day weekend.  I hope everyone had a great summer, and even though the season is over, the fishing will continue.  I want to send a HUGE thanks out to everyone who dropped by the DSF booth this weekend, my head is still spinning.  I see the numbers on Facebook and in the servers for the website, but to actually meet people in person is a real treat.  It was great to put some faces to the names of people I have met, and spoken with online.   My favorite line was … "I am one of your Facebook stalkers".  It definitely was a full day of meeting lots of you folks and I appreciate all the conversations and fishing stories.  many folks said the Pot Nets Labor day celebration was not as large as last year, but you would not have been able to tell that at the DSF booth.  I was busy all day long, especially when the monsoon hit.  There were ten people under the tent trying to stay dry.  The DSF pint glasses filled up to full or half full, and that is not depending on how you look at things.  We got really wet, and had a lot of good laughs about it the whole time.  Eventually the rains subsided, I set back up to dry out, and continue with the day.  I was planning on staying for the fireworks anyway.  Seeing the numbers of fans on Facebook and the hits on the servers doesn't compare to meeting so many people live and in person, I am still blown away by the reception I received, and have been smiling ever since.  I really appreciate everyone dropping by to meet and support DSF's efforts.  Keeping everyone informed of weather, traffic, gear needed, posting pictures, and fishing reports is the greatest job I have ever had, and makes all of this hard work worth every second.  I thank all of you again, and I will have a booth at the Milford Riverwalk on Saturday September 7th, drop by if you are in the area.  Like I always say, show me a picture or tell me a lie, we are called anglers for a reason.  Ever notice how much bigger that fish is by the time you get home, especially the one that got away?
Well, you didn't drop in here to hear me ramble on about this weekend's festivities.  So, what is up out there with the fishing?  Croakers are everywhere, and I mean all over the place.  You can't toss a shell in the water without hitting one, and spot are just as thick in numbers.  These fish are getting much bigger and the average size seems to be bigger than last year at this time.  Kingfish are still heavy in the surf and are showing up in the inland bays as well.  Top and bottom rigs with 2/0 hooks are the ticket, the float colors do not seem to make a difference.  Fishbites, bloodworms, squid, sandfleas, and small pieces of cut bait have all done well.  Massey's Landing and the Cape Henlopen fishing pier has seen lots of these fish.  A few Pompano have popped up in the surf as well this weekend caught on Fishbites.  Much larger ones than we saw last year as well.  Ling Cod or Spotted Hake have made an appearance at the Delaware Bay beaches, especially the point in Cape Henlopen.  They are mostly a cold water fish and usually a good indicator that temperatures are cooling down.  you have to love having cold water and warm water fish in the same area, at the same time.  One thing I love about fishing in Delaware we always see a variety of fish species throughout the year.  Depending on how fast the water cools down, will govern the types of fish we see out there, and what we can catch throughout the year.
Massey's Landing has been producing a lot of nice croaker and spot, the fish are thick and rather large.  The pinfish I saw the other day was probably the largest I have seen caught in the back bays.  Clam has been the best bait down there for all of the puppy drum that are showing up, and bloodworms for the smaller fish.  Shorty striped bass are being caught as well, mostly at night and by shorts I mean in the twenty to twenty four inch range.  All of the fish seem to be bigger this year and that may be good for the migratory striped bass we are all anxiously awaiting.  Everyone wants to know when the rockfish will be here, and that will happen when it happens.  Even the old salts never guess an exact time, but they do have their own theories.  It is always possible they will pass Delaware in deeper federal waters.  It has happened before, and last year's fall run was not much of a run.  We had fish here, but nothing like we are used to seeing, and the boys fishing out front did the best in boats.  Remember in federal waters (3 miles out) you can not keep the striped bass only catch and release.  Once the fish are on the move we will have a rough idea when they will be here.  In the meantime we have resident striped bass being caught in keeper sizes.  Mostly at the Indian River Inlet, a few have been caught in the back bays.  Also slot season is over (august 31st) so everywhere in Delaware is now under the twenty eight inch, two per day creel limit.  Hopefully we will see a decent fall run this year, with the large spot and croaker every where that may be enough to entice large schools of striped bass to our shores.  As always winds and the like will govern any fish movements, and as we all know anything weatherwise in Delaware is hard enough to predict every fifteen minutes.  So we will wait and see, I will keep up with my buddies in the north to see how they make out, in the meantime there are always the resident rockfish.
Bluefish have started getting bigger in the surf and at the rocks at the Indian River Inlet.  The rock wall is producing decent sized bluefish in snapper sizes, on live spot, spoons, plugs, and jig heads.  Mullet rigs are working well in the surf and the point is probably the best spot due to the faster moving water.  Many schools of the little six to eight inch blues are everywhere. I call them snipper blues, since they just love to surround your bait and snip it off the hook like a school of angry piranha.  The snapper blues hit nicely on plugs and spoons, there is no comparison to catching with lures when it comes to a fish that can hit like a freight train. The bigger torpedo blues are a blast to catch on lures, they hit your gear and run like a speeding car down route 1.  Sometimes you are not even sure if you can turn the fish, especially in faster currents, they can run like mad.  Soon there will be plenty of larger bluefish, the question is how long they will stick around.  Just like anything else when it comes to fishing, it is hard to predict, especially with the crazy weather we are experiencing.  Last night filming the sunset at Kite Beach I was watching schools of little snippers work the water. They were jumping upwards of two feet out of the water and chasing bait or being chased.  The food chain in motion, one minute they are the predator and the next the prey.  It is tough being a little fish in such a big sea.  I will keep you updated on the progress of anything we come across for the fall run.  Honestly once the fish are here it is a no brainer where to find them, they go to the same spots every year.  It doesn't take a rocket scientist to tell you where, you just need to know when.  That is rather simple to, just wait for the first person to freak out in a bait shop or online that they caught a migratory rockfish.
Flounder pounding has still been good at the Old Grounds and even inside the Indian River Inlet.  A few keepers have been pulled from Massey's ditch and there are still short flatties everywhere else. Roosevelt inlet has seen a few nice catches as well as some of the beaches. Mullet rigs have even worked well, otherwise minnows, live spot, gulp or live mullet.  You have to catch your own live mullet, and the cob sized ones are not too big for larger flounder, they may appear to be, but you would be surprised the large bait a larger fish can handle. Big bait equals big fish is always a good saying and very true.  Flounder have been caught on flies by the long liners and fly anglers at the flats of Cape Henlopen and Rehoboth Bay. They will move out soon and since there is no season this year we will have to see how long they will be here.  Last year we were catching keeper sizes up to ten days before the season reopened, and then once it did they had already left. Of course by then it was already winter and the water temps finally dropped.  Most people already stopped fishing for them anyway since they were not allowed to keep them, the general consensus was why stress the flounder out trying to catch them, if you can not keep them.  That was a good practice, flounder too often are gut hooked and that increases the mortality rates, in my opinion.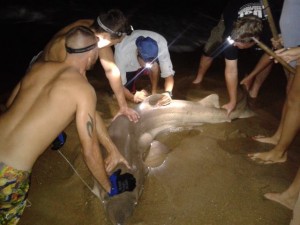 Friday night I met Scott Jost, Kym Caudill, Kevin Stoltzfus, Matt Stoltzfus, Jennifer Tobias, Tammy Jackson, Brian Barrowcliff, Jamie barrowclif, Little man Brodie, Brian;s parents, Gary kushto, and Sarah Cha Cha on Herring Beach at Cape Henlopen state park.  They came out to help Jimmy Kilfoil and Amy Comer the researchers from Delaware State University to catch sand tiger sharks in the surf so they could be tagged, and take genetics. They had permits so the crews could beach a prohibited species, otherwise you are not allowed to remove these sharks form Delaware waters.  I took pictures and documented the entire process. I was still sick from allergies and the weekend before we tried catching for the school but the weather was not very good for kayaking out baits, and we froze out butts off in the heavy wet winds. these folks did all of the work and had some great setups for catching sharks from the surf. One of the trucks was rigged up with twelve foot surf rods and outrigger clips attached to them to hold the lines out of the water.  I though that was a rather ingenious setup. They had to do all the work since the researchers are only there to tag and process these sharks.  I took a lot of pictures and in a few of these pictures they look like they are posing, only because I told them all to smile, they earned some recognition for a job well done. It only takes seconds to get a shot like that during the tagging process, otherwise it is all serious work and no play. In less than an hour and a half they filled four tags that needed to be done to complete the researcher's program.  The following is the list off catches that night, and the anglers …
Brain Barrowcliff: sand tiger (FL 218 cm), sandbar (FL160 cm)  FL = Fork Length
Gary Koshto: sand tiger (FL 203 cm)
Tammy Jackson (Kevin on the hook up): sand tiger (FL 224 cm)
Matt Stoltzfus: sand tiger (FL 208 cm)
They did a great job and Tammy caught her first shark ever from the surf, and I am sure she still hasn't stopped smiling, or talking about that experience. I want to thank these folks for a job well done and I know Jimmy and Amy were as happy as I was it was so quick, since we all had to be up early the next day for prior obligations.  Kudos gang, you did great, I wish Alex had been here to be part of this he would have loved these rigs, maybe next time.  They had a few cool tricks to help catch sharks in the surf, which I promised to keep to myself.  Fishing can be as much luck as it is skill at times.  Finding tricks to make it more fun or easier is part of the experience.
Saturday while I was at the farmer's market Brian Wehterill posted a picture of a Spiderman pole he caught in Massey's Ditch.  I didn't think much about it at the time except that Lil Hoopes, Nick's son uses the same pole to catch fish all day long, it is his first fishing rod and he is three years old.  On Sunday nick and his family stopped by the booth at Pot Nets and he told me Lil Hoopes's cousin dropped his Spiderman pole into the water at Massey's ditch from the boat.  I said I know who caught the pole, but for the life of me I could not remember who posted the picture.  Facebook as usual was on the fritz and jammed up with posts.  I decided to post a heads up on the DSF Facebook page hoping whoever caught that pole to let me know if it was new one. The reader son the page all asked if we could take up a collection to get Lil Hoopes a new setup and I decided to so a little shopping.  I had a good weekend and lil man seemed really bummed he didn't have that pole anymore. His dad recently bought a batman pole because he figured it would keep up with the Spiderman pole that had been doing all of the catching.  I contacted him and told him what our friends online wanted to do for him and needed to know here to meet him to present Lil' Hoopes with his new Spiderman pole.  He said that wasn't necessary since LH had takenover the batman pole, but i told him we already had the set up and wanted to get it to him.  While that was going on it suddenly dawned on me who caught the other pole so I contacted Brian.  He said he would be happy to give the pole back to Lil' Hoopes but would be out of town soon.  I told him no worries, myself and the DSF readers had it covered. Long story short (never happens with me) I gave Lil' Hoopes his new Spiderman pole and he just lit up with excitement.  I met them at Massey's Landing and his mom had to run home and get his PFD so he could go out with his dad on the boat to do some fishing.  I said my good byes and before I was halfway to route one, he already had his first nice sized croaker and was back in action.  Seeing that smile on his face with the new pole and then the fish he caught was priceless.  It was great to see the DSF community come together to help this little guy.  Later that evening Nick asked me if he could get the other pole to hang on the wall, Brian of course said no problem he will get it to him this weekend.  Brian also told me he posted that picture in hopes I would know who lost the Spiderman pole, small world.   We figure some day this story will become legend about the pole that got away and was caught again. I want to thank everyone for coming out this weekend and for helping Lil' Hoopes out, that was a great experience I will never forget.  I love this job and am having the best time meeting people while hanging in the DEL keeping you AWARE.
Fish On!!
Rich King