Indian River Inlet Has A Killer New Web Cam
(Oct 12 2018) … It is nice to be able to use web cams to see the conditions for fishing and what not, especially during storms. Recently DELDOT added another webcam to the north pylon of the Charles W Cullen Bridge and it is an epic view. You can see the entire southside jetty and beach. Surfers will love and hate this new camera view, no more guessing if the southside is firing.
The view north along the coast in Delaware Seashore State Park is awesome! Nothing is in the way, so it is a very nice bird's-eye view. The zoomed in view of the life saving station shows the area where the wind keeps cutting the dunes. These traffic cameras are not only good for DELDOT traffic updates, but for parks to keep an eye on beach conditions. This is key during storms and even after to assess damage and conditions. Today you can see the swales that are filled in from the heavier storm surge.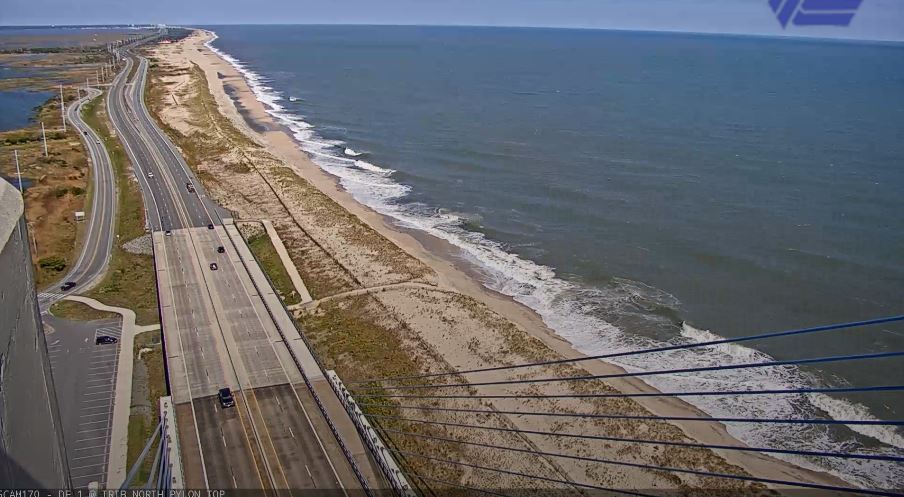 No idea when they added this new camera, but with the south pylon camera the beaches and route 1 are covered really well around the Charles W Cullen bridge.  There are four cameras in that area you can access on the DELDOT app.  Use either your phone or computer, if you screen shoot the cameras on your phone you can blow up the picture to see details.  The interactive map is easier to use on your phone as well.
Fish On!
Rich King