History Tour on the Cape Water Taxi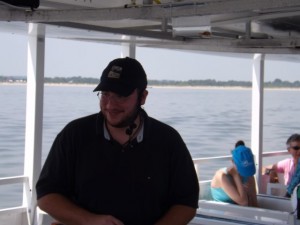 The Cape Water Taxi takes a lot of daily trips for sightseeing from Eco tours to sunset cruises also osprey tagging and a discovery tour that teaches about life on and in the Delaware Bay.  One of the tours I have been looking forward to experiencing is the History Tour.  These tours are done with the Lewes Historical Society and are very educational.  The tour starts in the Lewes canal, originally known as the Lewes Creek.  A history of the town and original colony was explained to us by Marcos Salaverria, the Director of Education at the Lewes Historical Society.   Marcos is an excellent speaker and really draws in his audience and keeps their attention.  I was surprised at how little I knew about Lewes once he started his presentation.  I have visited all the museums and read a lot of books but you can always learn something new.
I took six pages of notes, but I don't want to spoil it for you, take the tour you will be pleased.  We were told about the original colony and why it was settled in this area, which was for whaling, and that was a funny story.  The pirates that visited the area such as Captain Kidd.  After the canal tour we headed out the Roosevelt Inlet to the inner wall and the Harbor of Safe Refuge where Marcos told us about the history of that area as well.   I highly recommend you take this tour on the Cape Water Taxi, it is a great way to get started on the history of Lewes Delaware and get a "feel" for the history at sea.  The other Cape Water Taxi tours are highly educational and entertaining as well.  For more on the history of Lewes, visit the Cannonball House Maritime Museum, and the Lewes Historical Society Campus.  You would be surprised at the amount of history you can find in the first town, in the first state … Lewes, Delaware.
Fish On!!
Rich King