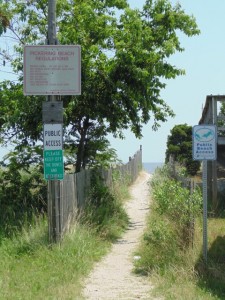 Located just south of the Little Creek Wildlife area and east of the Dover Air force base, Pickering beach is just off of Route 9 on Pickering Beach road.  Below Pickering Beach is Lewis Ditch a small gut that empties into the Delaware Bay, there are couple of smaller guts north of the beach as well.  These are good places to look for baitfish and flounder.  Short striped bass will school at the mouth and feed as well.
There is public access but no facilities or amenities for the public, be prepared for that.  Carry in and carry out is a must.
Pickering Beach is an official sanctuary beach for horseshoe crabs.  This one of several Delaware Bay beaches that sees a massive amount of horseshoe crabs every season when they come to shore to spawn.  The shorebirds that feed on the eggs of the crabs, especially red knots, can be found among the thousands of birds foraging in the surf.  The horseshoe crab surveys are conducted on this beach every year. 
Pickering Beach is a small sliver of sand along the Delaware bay just off Route 9.  There are houses along the beach, and it is a very quiet community.  There is limited parking for visitors and a small path for beach access for the public.  Otherwise the land around the area is all private.  Be careful where you park, it is very limited to the public.  You can see a lot of wildlife and many of the big ships that move up the Delaware bay. 
Pickering Beach has decent fishing, but during low tide the water can be rather skinny.  You have to carry your gear in this is not a drive on beach.  The path is wide enough to carry a kayak to the water's edge and launch, just be careful of the swifter currents farther offshore.  The wave action is minimal aside from the wakes of large ships.
The fishing is typical of a Delaware bay beach.  Lots of dogfish and skate are usually the main catch.  When the season is in full swing croaker, flounder, small weakfish, short striped bass, bluefish, spot and white perch are all caught.  Sand bar and sand tiger sharks can also be caught.  During the spring striped bass migration it is not uncommon to find migratory bass schools near the  shoreline.  
During the fall migration you will find short striped bass schools feeding along the shoreline chasing a multitude of baitfish. Typically anglers use top and bottom float rigs with cut baits, squid, bloodworms, or fish bites artificial formulas, the bloodworm one being the most popular.  Flounder can be jigged for using gulp and a two ounce jig head or bucktail.  The water is usually pretty dirty so it is best to use baits or scented artificial baits.
A west wind will push the bugs towards the beach, and they can be out of control in the summertime, so take your bug juice.  We recommend Gneux More Gnaughty Gnats, it literally keeps the "no see ums" and all the other bugs off of you better than the chemical bug sprays.  No See Ums, biting midges, midgies, sand flies, or punkies depending on where you're from, are the tiny gnats that you can hardly see but certainly feel.  There are mosquitoes and green heads as well as the black marsh flies that bite. 
All in all Pickering Beach is a nice quiet community that has decent beach combing for shells and sea glass.  Especially after a good storm, you never know what you will find.