Millsboro, DE – Cupola Park
Cupola Park (pronounced kew-pa-lah) in Millsboro, DE is on the edge of the headwaters of the Indian River. Cupola Park is more than a place to fish. It is a place to bring the family and has many amenities that everyone will enjoy. At Cupola Park you will find two picnic pavilions, an enjoyable playground, shade trees, and of course the Indian River. The headwaters of the Indian River are tidal and thus are brackish, however just above the river and across route 24 is the fresh water Mill Pond that feeds the river via a large spillway. If you wish to fish for freshwater species, cross over route 24 to the public boat ramp. This pond holds sunfish, catfish, pickerel, several species of sunfish, perch, and large mouth bass.
But if you have your sights set on some salt water fun that everyone can enjoy, the river is easily fished from the park bulkhead. Watch out though, as the tide rises the river will flow over the bulkhead and into the parking lot. This overflow obviously was not occurring back when the bulkhead and parking lot were built.  There is a boat ramp for small vessels and kayaks.
This end of the Indian River holds healthy stocks of several smaller fish including spot, mullet, bunker and at times is the terminus to several breeding stripers (rock-fish) during the spring and fall runs. Smaller bluefish and flounder have also been known to be taken, however the water salinity conditions must be right for those species to wander up this far.  You never know what you will catch at Cupola park.  The Millsboro pond is just across the way and has a boat ramp access on route 30 just off route 24 after the spillway.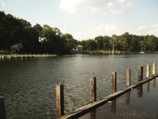 In addition to fish the aspiring bird watcher or photographer can get up close and personal with the aquatic bird species that call the park home. Many types of gulls, ducks, geese and the ever present Double-crested Cormorants  who seem to prefer to roost in the park's lone Bald Cypress tree. Many fishermen incorrectly blame the cormorant for lowering fish stocks. And many people think cormorants are ugly birds. They aren't. Get close to one and you'll see that they have the most beautiful azure colored eyes.
Please keep in mind that Cupola Park is operated by the Town of Millsboro and is open for everyone's enjoyment from dawn till dusk. There are private homes surrounding the park as well as on the way in so please be mindful of the folks who live there.
The Wrap Up
Cupola Park is a wonderful place to take the kids to fish. No heavy surf, trees to get tangled in and plenty to keep even the smallest in the family interested. So get out your ultra-light and light tackle and have a great day.
Fish On!