DNREC seeks volunteers for Citizen Osprey Monitoring Project
DNREC seeks volunteers for Citizen Osprey Monitoring Project Division of Fish & Wildlife to hold orientations March 7 and 8
DOVER (Feb. 26, 2015) – Delaware's Division of Fish & Wildlife is seeking volunteers  to help monitor the state's osprey population. These majestic raptors with their distinctive stick-built nests on nesting platforms, tall poles or trees can be seen along many Delaware waterways, especially Sussex County's Inland Bays. Ospreys depend on a healthy and abundant food supply, and since their diet consists primarily of fish, monitoring their population and activities statewide provides a good indication of water quality and the general health of Delaware's waterways.
For those interested in either getting to know about these unique birds or helping collect osprey nesting data, the Division of Fish & Wildlife will hold two orientations for volunteer osprey monitors:
Saturday, March 7, 1-2:30 p.m. – Nature Center at Bombay Hook National Wildlife Refuge, located off Route 9 east of Smyrna at 2591 Whitehall Neck Road, Smyrna.
Sunday, March 8, 1-2:30 p.m. – Field office at Prime Hook National Wildlife Refuge, 11978 Turkle Pond Road, Milton.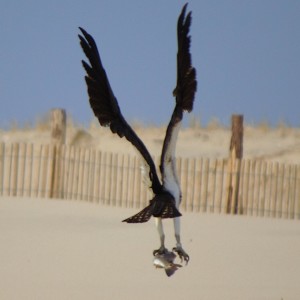 Volunteers only need to attend one of the orientations.
Osprey populations throughout the United States suffered serious decline in the 1950s and 60s, largely due to the effects of DDT, PCBs (polychlorinated biphenyls) and other chemical contaminants. DDT and most PCB uses were banned in the 1970s, and – despite some residual contamination in the environment – osprey populations have recovered markedly. In the early 1990s, to assist their recovery, the Delmarva Ornithological Society partnered with the Division of Fish & Wildlife and other organizations and took the lead in constructing, installing, repairing and replacing osprey nesting platforms throughout the state.
Before 2003, the Division of Fish & Wildlife conducted osprey surveys in the Inland Bays and Nanticoke River areas where osprey populations were traditionally the highest. That year, statewide surveys began as a result of an increase in osprey sightings.
"Delaware's osprey population is on the rise, so volunteer assistance with nest monitoring is definitely needed," said Wildlife Biologist Kate Fleming of the Wildlife Species Conservation and Research Program. "The contributions of our volunteer monitors allow us to document breeding activity and milestones that we wouldn't be able to collect otherwise."
Osprey will become a common sight beginning around mid-March, with nesting pairs returning and starting to rebuild their nests. Veteran monitors anxiously await the first signs of the ospreys' return to begin recording data at least every other week. Observers note osprey activities from nest building to the juveniles' first flight to the departure of adults and juveniles in late summer.
"Ideally, volunteers should monitor nests near their work or home or be willing to drive to their monitored nest often," Fleming said, noting they also need email access to report their findings as well as receive updates about the project and details about other nesting sites throughout the state.
Volunteers who know of an existing nest that they would like to monitor are encouraged to bring location information with them to the osprey monitoring orientation. Volunteers will be matched with nests via email the week following orientation. Nest assignments will be based on preferences provided at the orientation.
Preregistration for the orientation is encouraged but not required. To preregister, or to find out more about volunteering for the Citizen Osprey Monitoring Project, please contact Vickie Henderson at 302-735-8657, or emailVickie.Henderson@state.de.us. Information is also available by visiting Citizen Osprey Monitoring Project.