Diamond State Custom Tackle
I spoke with Dave the owner of Diamond State Custom Tackle about the company the other day.  People have been asking me why I use this gear.  Tell my readers a little bit about yourself:
My name is David Okonewski, I am the owner of D.S. Custom Tackle. I've been fishing since I was about 5 years old. I grew up in South Florida fishing the reefs and Gulf Stream for as long as I can remember. I've lived in Delaware for over 10 years and began surf fishing almost immediately. As many can relate, I suffered from never catching many fish and overall discouragement most of the time. It wasn't until about four years ago that surf fishing in Delaware began to click and my catching abilities went through the roof.  Part of my issue, I've come to realize was inferior fishing rigs. I hated losing fish to broken hooks, snapped mono etc. and this led me into my current venture, Diamond State Custom Tackle.
When was DSCT started, and why?
DSCT was started late in 2014. I began procuring name brand components to make the surf fishing essentials: Top and Bottom rigs, Striper and Flounder rigs. I've been asked why make tackle when it can be purchased, and honestly the quality of a lot of the rigs on the market just aren't up to my personal standards. The hooks aren't that sharp, they rust very quickly, the mono is very lightweight etc. The way I figured it was if I could buy the right parts and assemble them into a rig that, both caught fish and helped make fishing more affordable, everybody wins.
Why sell tackle if it is available at all stores and the internet?
The issue was never about availability. Tackle and fishing rigs are available literally everywhere. The issue was the quality of the tackle that is available. I felt that no one should have to use inferior quality gear when it really doesn't cost that much extra to actually make something that will last. So that is our company mindset. Before I began selling to the public I was using Eagle Claw hooks for a few rigs and found that I didn't like their longevity. So I reached out to Owner Hooks and they now supply almost all of our hooks.
What has been your best resource(s) to reach the public?
DSCT has been able to leverage social media platforms such as Facebook to reach our target audience. Also our partnership with Delaware Surf Fishing has been invaluable in reaching tens of thousands of potential customers on a daily basis. Through both online advertising and product reviews and placement it has proven to be a very successful partnership. One that we hope to continue well into the future.
Do you sell online retail or just wholesale?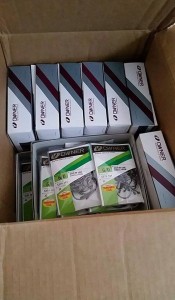 DSCT sells both online through our website http://www.diamondstatetackle.com and through many local Bait & Tackle shops. I must say it has been exciting to watch our products penetrate the market as they have. I believe that fishermen/women were looking for a high quality rig at an affordable price, and sales numbers reflect that. We are still growing into the market and look forward to being able to fulfill orders from individuals, local store owners and charter fleet captains.
What stores locally carry your products?
We are in several shops around the area.  PC Rods in Milton, Fenwick Tackle in Fenwick Island, Henlopen Tackle in Lewes, The Lead Pot in Dagsboro,  First State Sporting Goods in Mardel, Talbot Street in Ocean City, and The Oceanic Pier in Ocean City.  If anyone would like to carry our products please get in touch and we can get you set up with an account.  We can save charter captains money on bulk orders as well.  We have a list on the website we update with current stores carrying our products. 
What is your most popular selling item and why?
Last year our best-selling product was our B2 Flounder rig. This year our most popular product isn't a single product. New for this season is our Surf Package that consists of sixteen Top and Bottom rigs equipped with pill floats and Owner hooks, two of our extremely popular Surf Rigs also using Owner hooks, and two of our newly introduced Mullet Rigs. Perhaps it's the quality of the rigs or the fact that the package saves the angler over $20 when buying it as a package, either way they are selling like crazy. It is worth noting that the surf package is only available through our website. With this package all an angler needs to do is supply sinkers, fishing rods and bait.
You use all high end gear to make these rigs wouldn't it be cheaper to use more generic gear for profitability?
While DSCT could go overseas and purchase extremely cheap components for our rigs, we have found that our reputation is worth more than a few extra pennies per rig. We have agreements with some of the largest names in the business, such as Owner Hooks, Comal Floats and American Fishing Wire to name a few, and try to purchase goods Made in the U.S.A. whenever possible. While it can be tempting as a new business, to extract maximum profit, we didn't want to go that route and be just another company making mediocre fishing rigs. We have also found that anglers would rather spend an extra dollar if they know the rig will last. You may notice on all of our packaging that if you rinse the hooks in fresh water at the end of the day they will last for years to come. As an example, I have a float rig that I made 4 years ago and the hook is just as sharp as it was when it was new. The float may be a bit banged up, but it holds the bait off the bottom just like a new one would.
Let me give you an example of a rig we modified to help it last longer, the traditional mullet rig. This rig normally consists of a 3-way swivel with a duolock, a twenty four inch piece of stranded metal leader connected to a piece of 180 lb stainless steel wire. The rest of the rig is pretty basic, 3/0 double hook and a pear float. The issue I've always had with the mullet rig is they are made to be disposable. When trying to catch bluefish in the wash, the stranded cable gets kinked due to the nature of fishing in the wash. At that point the entire rig is garbage, as the kink in the wire affects how the mullet floats and moves in the water. To remedy this situation I had a bunch of testing done, and it was found that having a piece of 150lb mono replacing the wire leader solved the issue. I've gotten many comments about the strength of the mono leader when fighting a big gator, and the answer is always the same. It just works! To date I've never had a failure of the mullet rig, anywhere. The only problem that is hard to solve is the opening in the double hook used to slide it into the eye of the SS wire. To help offset this issue DSCT includes an additional Mustad 4/0 double hook in our Mullet Rig."
David thanks for taking time out of your busy schedule to talk to DSF today and answer a few questions about your business.  Also thank you for supporting Delaware Surf Fishing, we love using this gear.
Fish On!!
Rich King