Delaware's Public Comment Period For Striped Bass
Friday night I attended the hearing for Delaware's proposed striped bass reduction.  From DNREC … "Delaware must comply with the ASMFC's changes to the Atlantic Striped Bass Fisheries Management Plan as approved in October 2014. While the striped bass stock is not currently overfished, the ASFMC requires a 25 percent reduction in fishing mortality in 2015 to avoid overfishing the declining spawning stock in the coming years. "
There were less than 20 people there, which these days it typical at these meetings.  I was not pleased to see that, and was hoping for a larger attendance.  As much as people voice their concerns to me on a daily basis, I expected a larger attendance.  This was set up for public comments, there were only 2 people that spoke up, hopefully everyone else is going to send in an email, that deadline is March 1oth, send your emails to … Lisa.Vest@state.de.us tell the state what options you would like or not like and why for striped bass or rockfish limits.
I spoke up at the meeting, and asked why Delaware is not considering a one fish option, especially if you take into account our fish consumption advisory for striped bass.  We are only supposed to consume two, eight ounce fillets of these fish per year.  That is not a lot of striped bass, women of childbearing age and young children should not consume any of these fish.  Granted that is an advisory just for the C&D canal to the mouth of the Delaware bay, however these are migratory fish, so at some point they are all in that area.  Then at one point they are not in that area, which makes this all a bit of a grey area.  That logic has always bothered me, but I don't make the rules.   Fish do not lose these contaminants as they move into the ocean, but I wonder how much they gain when they do move into the bay areas.  A one fish creel limit would also certainly help speed up the process of rebuilding the stocks.  Right now Virginia is the only state that has chosen that option,all in the hopes they can change their option by next year.  They decided to take the hit now.  Every other state is pushing for the maximum they can get, solely based on the economic factor.  Another issue we will have to consider in the future is once we increase the stocks of striped bass we will have to protect the forage fish stocks so they have food.  I saw a lot of large fish this year that were underweight for their size.
The options in the chart above are what Delaware is proposing for the new creel limit options.  I would like to see option B6, which is 2 fish at 28 to 34 inches.  I would prefer a 1 fish option, but that is not available.  The B6 option at least allows some of these fish to spawn before they are harvested and protects the larger fish,  or cows.  I also think we should either change the boundaries for the spawning area, or not allow fishing in it at all in the Delaware Bay during that season.  Right now you can fish the C&D canal south side Jetty during spawning season, it is illegal to keep a striped bass on the north side, however  it is legal to keep a fish from the south side.  That season is April 1st to May 31st.  It is too easy to "cheat" that boundary , all an angler has to say is they caught that fish on the south side.  There are many anglers that have started and are following the example of grass roots movements. 1@32 save the stripers wants people to only keep one striped bass at 32 inches.  This allows the fish to at least spawn once or twice before harvesting.  CPR is Catch Photo Release, let's face it most people just want a picture of themselves of them holding that monster fish they just caught.  Keeping that large of a fish is not always a desirable thing for many anglers.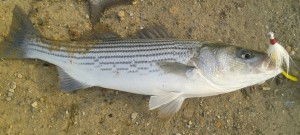 Please email the State Of Delaware, Lisa.Vest@state.de.us ,  and tell them which option you would like to see, if you are concerned for the fish stocks and want to see real results to help increase the stocks, I urge you to select option B6.  Some folks are concerned this option will push people to fish for more tuatog, and further reduce their numbers, but I think that should be chalked up to responsible fishing.  If you can't fill the boat with large striped bass and are going to instead fill the boat with tautog, then you are just creating another problem.   I know this is not a popular option with many charter captains and some bait shops, but in the long run it would be better to bite the bullet and take a hit now than to realize down the road we should have done better.  People are not paying a $150 per person to catch striped bass to feed their family, if they are then they need to reevaluate their financial choices.   These limits will not last forever, once the stocks are rebuilt the ASMFC will reevaluate the stocks and allow an option to change state creel limits again, so there is a light at the end of the tunnel for those who do not like any of this.  This happened when the moratoriums were put on striped bass back in the day, eventually the stocks rebuilt, creel limits were changed, and then we (anglers both commercial and recreational) decimated them again.  Our fish are a limited resource, and we have to protect them and respect the environment, or we will no longer have them.  SEND IN YOUR EMAILS!  Don't be the guy that complains all the time, but never votes, or does anything.
Fish On!!
Rich King