Delaware Surf Fishing Report for October 17th
Delaware Surf Fishing report for the Delaware beaches, inland bays, and area waters.
Brrrrrr it was a balmy fifty five degrees this morning. This is my favorite time of year to do some night fishing. Just wear warm gear that will keep you dry, Helly Hansen for the win.
The water is warmer than the air, and even though it is in the upper sixties, that temperature will drop your body temperature. It is a lot colder at night walking the beaches catching fish. Short striped bass action is fun in the surf, we call it rat wrangling. There are some bigger resident fish (keeper striped bass) around you just have to pick through the shorts. The full moon helps walking the beaches to see where you are going as well as jetty hopping. Finding the fish can be a chore, but that is part of the game. Creepin while your sleepin.
Don't shine your head lamp into the water, it does scare fish. Bridge and bulkhead lights will attract bait fish, squid and shrimp. The larger fish will come in to feed the lights. Your head lamp will attract fish, but that first time you shine the light into the water will spook fish. The constant light sources attract fish because they are just that constant. The fish are used to that light being there, conditioned response. Even a constant light source can spook a fish if it suddenly goes dark. We were at the Indian River coast guard station several years ago and the entire area blacked out from a power outage. The fish freaked when the lights went off at once, huge fish rolling in the water fifteen in front of us. That freaked us out, no one had any idea they were there.
Daytime surf fishing is still great for the summer suspects, including pompano. They are not only still around they won't leave, they will just die off when the water gets too cold. Northern puffers, spot, sand perch, kingfish, and croaker are all hitting in t he surf. I haven't seen a lot of croaker this year, but they have been caught. Fishbites is still working well despite the cooler temperatures. I have been using several flavors, bloodworms are always the go to but crab, shrimp, and sand flea works well. The fast acting formulas (red package) are better in cooler water under sixty five degrees.
Fishbites … "Most of our artificial baits come in both "Fast Acting" (red/orange packaging) and "Longer Lasting" (blue packaging) formulas. Maximum scent for minimum bucks is the motto for our Fast Acting baits. The rate of release and the percentage of stimulants have both been kicked up a notch in order to make the Fast Acting baits live up to their name. If target fish are plentiful and bait stealers are few, then the Fast Acting baits are a good bet. The gel used in these baits also make them ideal for late fall, winter, or early spring fishing or in places where water temperatures stay below 65 degrees. Our Longer Lasting formula provides extra durability for extended periods of time and makes a good choice for offshore bottom fishing, surf fishing, or when you're in the presence of numerous pesky bait stealers."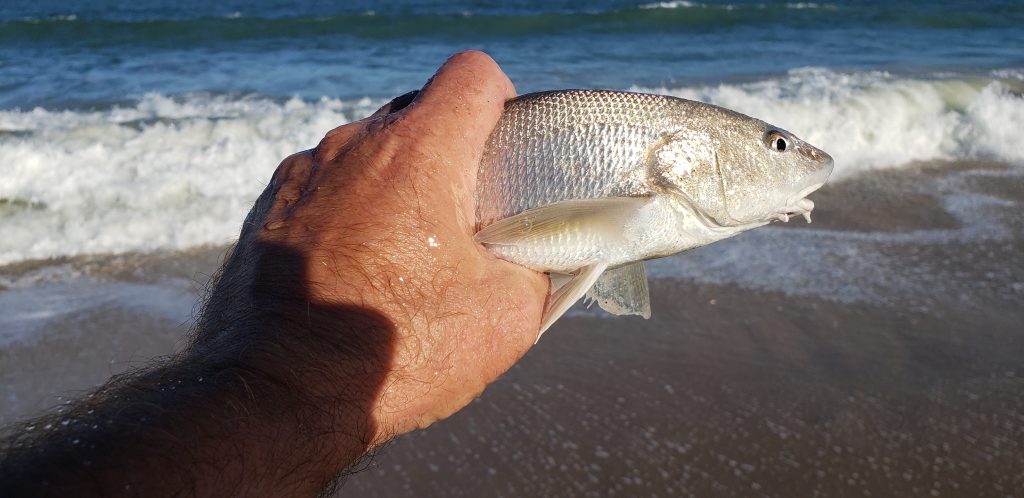 Obviously you can always dig for sand fleas, or grab some squid, mullet or clam to use for bait. Small pieces of mullet on top and bottom rigs will work well for the the smaller bluefish, and kingfish. This time of year kingfish will even hit your mullet rigs. They are feeding heavier to keep their metabolism up in the cooler water until they migrate out of here. The bluefish work good for bait for catching more bluefish. Those fish will eat anything including themselves they are not very selective when the feed bag is on.
The beaches survived the last few weeks of pummeling they received, especially the last nor'easter storm surge. Some are much steeper than before. You park at the top of the slope and walk down to the water at low tide and look up and your vehicle looks like is ten feet higher. There are some really exaggerated cuts on the beaches. Spotting the good cuts and place sot fish is much easier right now. There are still some swales and wet spots after the tide recedes. Just be careful not to drive through any wet spot unless you know it is solid. The point is notorious for collecting water in small areas that pool. The breach areas are still wet at high tide, especially wind driven water like today.
Inland bay short striped bass action is a lot of fun, the fish are feeding heavy. Swim shads, bucktails, and small poppers are producing. I prefer a two ounce red and white bucktail. You can make a bucktail look like just about anything in the water. With a little practice, jigging creates a lot of action fish will hammer. Bucktails are one of the most versatile lures. Everyone should have bucktails in their arsenal. Doubling them up in a tandem rig like a speck rig will produce fish two at a time and double your work out. Use at least forty pound mono to rig two bucktails. Two keeper striped bass will put a hurting on a tandem bucktail rig as well as your arms.
Swim shads that mimic bunker or mullet are preferred. White swim shads and soft plastics will work well this time of year. Especially in the northern creeks and rivers with the darker silted up water. They murder it in the surf as well. Mimicking that flash of moving bait fish. Dark bombers (purple) are preferred at night around the Indian River Inlet, and darker swim shads. That seems strange to many people but fish match their colors to their surroundings. Striped bass can nearly see in the dark, a dark lure is an easy target for them.
Lot of anglers tautog fishing at the Indian River Inlet. Green crabs and sand fleas are the preferred baits. There have been a few sheepshead and trigger caught. Striped bass action is great with sand fleas, just seed the water with a handful of fleas, the fish will feed like pigeons on seed in the park or gulls on fries at Thrashers. Then toss in a few fleas on a six aught hook and the action begins. Mostly shorts striped bass but a lot of fun. You will need a five gallon bucket of fleas to fish this technique. The surf is still loaded with sand fleas, low tide in the cuts is the easiest time to rake for sand fleas.
Offshore anglers are going for sea bass on the wrecks, reefs and hard bottom. Clam is usually the preferred bait. "The bigger piece of clam I used the bigger the sea bass" said one of the weekly regulars at the piers in Lewes. Trigger and bluefish are also being caught out there by the charters and head boats and the occasional black drum. Flounder action is still happening, but many have switched to sea bass for paid trips, they produce better results for the anglers.
Assateauge Island State park is seeing the same fish as Delaware in the surf. With the exception of bull red drum action. Whole spot live or dead are the preferred baits. Kingfish make great bait as well. Bull reds are fun fish to catch. Put them back as fast as you can, they can not be kept and releasing large fish quickly helps ensure their survival. Skipping the picture helps alleviate that time out of the water. Don't hold them by the gill plates either, hug that fish and get slimy. Even that isn't the best method, but better for the fish's gills. Best catch and release method, leave them in the water and pop the hook.
With the water temperatures dropping this is a great time of year to do some crabbing. They are feeding heavy before they bury in the mud for the winter season. Trot lines are producing a lot of crabs quickly. The competition is down as well, there aren't a million crab pots around the inland bays. Lot easier to catch crabs when you're the only one out there fishing for them.
Water temperatures crashed over night around the inland bays. Dropping a solid seven degrees during a full tide cycle. They were holding well between sixty-seven and sixty-five degrees between tides. This wind and cold snap dropped them quick in one day. The surface temperatures inshore and the Delaware bay are in the low sixties. The bottom water temps at eighty to a hundred feet of water is a balmy sixty-six degrees according to the Aqua Quest scuba diving crew. That is warmer than some of the surface temperatures right now. Always remember even though the water is warm on the surface doesn't mean it is the same on the bottom of sea floor area you are fishing.
The weekend and rest of the week is looking nice once we get past this high wind advisory. The night time temperatures will be chilly and the daytime in the mid sixties. Still some great fishing out there and we are looking forward to the striped bass migration. That is starting up north above and near New Jersey for some of the slaughter, I mean head boats that are going out daily whacking fish. For a fishery that so many are concerned about, it is amazing how fast that concern dissolves this time of year.

Fish On!
Rich King
NWS …
Today Mostly sunny, with a high near 61. Windy, with a west wind 29 to 31 mph, with gusts as high as 50 mph.
Tonight Partly cloudy, with a low around 50. Breezy, with a west wind 21 to 25 mph, with gusts as high as 41 mph.
Friday Mostly sunny, with a high near 63. Northwest wind around 17 mph.
Friday Night Mostly clear, with a low around 47. Northwest wind 9 to 13 mph.
Saturday Sunny, with a high near 63. North wind around 6 mph becoming light and variable in the morning.
Saturday Night A chance of rain after 2am. Mostly clear, with a low around 54. Chance of precipitation is 30%.
Sunday A chance of rain before 2pm. Mostly cloudy, with a high near 68. Chance of precipitation is 40%.
Sunday Night Partly cloudy, with a low around 59.
Monday Partly sunny, with a high near 70.
Monday Night A chance of showers after 2am. Mostly cloudy, with a low around 62. Chance of precipitation is 40%.
Marine forecast … NOAA
Coastal waters from Cape May NJ to Cape Henlopen DE out 20 nm-
Coastal waters from Cape Henlopen to Fenwick Island DE out 20 nm-
925 AM EDT Thu Oct 17 2019

…GALE WARNING IN EFFECT THROUGH LATE TONIGHT…

.REST OF TODAY…W winds 25 to 30 kt with gusts up to 40 kt. Seas
5 to 7 ft. Swell mainly from the W with a dominant period of
7 seconds.
.TONIGHT…W winds 25 to 30 kt, becoming NW 20 to 25 kt late.
Gusts up to 40 kt. Seas 4 to 6 ft. Swell mainly from the NW with
a dominant period of 9 seconds.

.FRI…NW winds 20 to 25 kt, diminishing to 15 to 20 kt in the
afternoon. Gusts up to 30 kt. Seas 3 to 5 ft. Swell mainly from
the NW with a dominant period of 7 seconds.
.FRI NIGHT…NW winds 15 to 20 kt, becoming N 10 to 15 kt with
gusts up to 20 kt after midnight. Seas 3 to 4 ft. Swell mainly
from the NW with a dominant period of 6 seconds.

.SAT…NW winds 5 to 10 kt, becoming W in the afternoon. Seas
around 3 ft in the morning, then 2 ft or less.
.SAT NIGHT…S winds 5 to 10 kt. Seas 2 ft or less. A chance of
rain after midnight.

.SUN…SE winds 5 to 10 kt. Seas 3 to 5 ft. A chance of rain.
.SUN NIGHT…E winds 10 to 15 kt. Gusts up to 20 kt after
midnight. Seas 4 to 6 ft.

.MON…E winds 10 to 15 kt with gusts up to 20 kt. Seas 4 to
6 ft.
.MON NIGHT…SE winds around 15 kt with gusts up to 20 kt. Seas
4 to 6 ft. A chance of showers after midnight.
Tides Indian River Inlet …

| | | | | |
| --- | --- | --- | --- | --- |
| 2019/10/17 | Thu | 04:33 AM | 0.40 | L |
| 2019/10/17 | Thu | 11:19 AM | 3.20 | H |
| 2019/10/17 | Thu | 5:23 PM | 0.59 | L |
| 2019/10/17 | Thu | 11:35 PM | 2.62 | H |
| 2019/10/18 | Fri | 05:13 AM | 0.43 | L |
| 2019/10/18 | Fri | 12:01 PM | 3.18 | H |
| 2019/10/18 | Fri | 6:11 PM | 0.67 | L |
| 2019/10/19 | Sat | 12:20 AM | 2.52 | H |
| 2019/10/19 | Sat | 05:59 AM | 0.48 | L |
| 2019/10/19 | Sat | 12:51 PM | 3.14 | H |
| 2019/10/19 | Sat | 7:05 PM | 0.72 | L |
| 2019/10/20 | Sun | 01:13 AM | 2.43 | H |
| 2019/10/20 | Sun | 06:52 AM | 0.52 | L |
| 2019/10/20 | Sun | 1:50 PM | 3.09 | H |
| 2019/10/20 | Sun | 8:06 PM | 0.74 | L |