This past weekend was a great time, I saw a lot of folks I haven't seen in a while.  Hung out at Bill's Striper Tournament dinner Friday night, that was fun, and saw the Reel Friends surf fishing club.  I fished with Admin 1 on Saturday, and spent Sunday surf fishing for most of the day.  Chris and Teresa, sponsored by DSF, surf fished the tournament at Assateague with Mike Behney of Rick's Bait & Tackle.  They had an interesting time thanks to the weather, and rough surf.  There were a few folks on the beach this weekend.  Jason Snead finally landed the elusive tog he has been learning to catch.  The outer wall was rather busy, stacked up with boats.  The top story is the Ocean Sunfish or Mola Mola fish that was caught, and dragged out of the Indian River Inlet.  I have been receiving calls all weekend about this catch, and watching the internet blow up.  Quick heads up … we only report the fishing news in Delaware at DSF, we are not responsible for this catch.  Which was assumed by several folks online that decided to give me a personal hard time.  As usual not paying attention to captions with pictures, will put your foot in your mouth, pay attention to information before you spout off at the wrong person.  In short, don't kill the messenger.  One gentlemen even called us hacks.  I do not see his logic with the statement, and have yet to receive an answer.  We do not agree with the fact the animal was caught, and definitely not with the fact it was kept.  The kids that did this, now understand what they did was wrong.  That still doesn't make up for the loss of this fish. We are hoping the publicity of this catch will help introduce legislation making it illegal to land one of these fish, and even catch them.  Obviously the fish was snagged,  they do not go after spoons and bucktails.  We do not have a lot of details on this catch, except I do know the young man responsible has been receiving lots of heat from the internet, neighbors and his friends.  I have had some interesting conversations that mostly conclude the same thing … stupid and irresponsible.  Agreed.
Friday night was the dinner for Bill's Sport Shop's tournament hosted by Irish Eyes of Lewes, DE.  I ran into the Reel Friends there, and fished with them the next day.  Captain Bill was emceeing and Bill Jr. was handing out the raffle prizes.  The food was excellent, and we had a show too boot.  If you have ever see these guys making announcements, you know what I mean.  It was fun to watch everyone get prizes, lil Anthony helped the Captain pick tickets.  Half of the folks there won some sort of prize from assorted gear like … Bucktails from Bucktail Bob, to half day charters on several different boats.  These trips can be used for the striper tournament, and there are even prizes that correspond to some boats.  The ladies division only has 5 participants signed up, might be a good idea to get in there ladies.  There are some great prizes just for the ladies division.  The heaviest striper weighed in by the end of the business day on Thursdays will win $155 for the weekly heaviest fish.  With the raffle prizes, dinner with a show, and the possibility of winning over $150 that night, should be a no brainer for signing up this year.  Especially if someone manages to catch a car winning keeper, thanks to Bryan Hecksher from Auto Gallery of  Delaware.  You have until November 2 to sign up, and with the stripers that are starting to show.  Every Friday night, someone is winning the weekly heaviest.  Speaking of keeper stripers … The Indian River Inlet, back bays, and Massey's Landing have been good for keepers.  A few from the rails, and mostly at night.  Massey's has been heavy the past week, but the tide is all wrong right now for night fishing.  Some of my boys in the surf have been hitting keeper stripers on cut mullet, at night.  A friend of my neighbor's was coming out of the marina in  Dewey Beach the other day, with a keeper he caught in the Lewes Canal.  Those are my favorite fishing reports, passed along in casual conversation  The fish are schooling up, moving around, and getting as antsy as we all are for the fall run.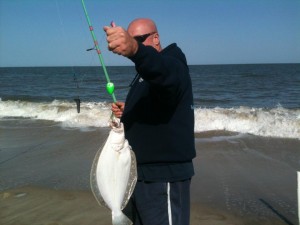 The Reel Friends were fishing Broadkill beach this weekend, I was 400 yards North of them, catching spot and dogs.  They were hitting bluefish, spot, dogfish, and a 16 inch flounder.  Too bad the season is over October 24, also more winter flounder have been reported in the bays near Massey's Landing, and in the surf over the weekend.  Weird fishing year, without a doubt.  Kristen's son Brandon caught his first 17 inch redfish from the surf and out fished his mom Saturday, Sunday he hit a small flounder, his first ever.   That kid is batting a thousand this year.  Good stuff Buddy!!  Teresa's son caught his first fish in the surf over the weekend.  It has been a weekend for the next generation to enjoy fishing.  Another generation hit the beach on Saturday, Mike Andrews brought his dad surf fishing for the first time in 25 years … "Hey Rich, had a good time on 3r's today w/ my parents…. I have no doubt after my dad " Joe Andrews" read a few of your reports he all of a sudden wanted to go surf fishing….LOL. thank you for that….My pop hasn't been out on the surf in 25 years or more….it was a blast seeing him in action….albeit he was a bit rusty and slow on the hook set, he got back into the swing of things. The surf was full of really small bait stealin blues 6 to 10 in kind. between myself and my father we caught 3 small blues, 1 small sea trout, 1 small flounder, 3 dogfish, and a skate….we had a lot of hits and a lot of misses to go with that. all in all it was a great day of fishing… My dad got a kick out the response's his pic got….He's a smooth dresser….lol"  …   That is exactly how you dress for a Sussex county beach. 😉  Thanks Mike!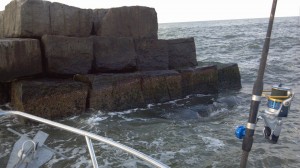 There was a lot of people here this weekend, and it was beautiful out Saturday and Sunday.  I had 6 offers to get on boats over a 32 hour spread.  Sleep is getting in the way of my days.  Sorry gang I could not take up all of the offers (any), there was no time, and I appreciate them all.   We did get an interesting proposal from a buddy, and I believe we will be planning a few DSF charter trips.  Most of these guys hit the Outer Wall fishing for Tautog.  Everyone said it was murky at the wall, and nothing was biting, so they headed to the haystacks, or ice breakers.  Everyone who moved to this area hit a bunch of fish fast, then the action died off.  Many limited out in 20-30 minutes on tautog, and then fished a few bluefish schools that were moving through the area.  Jason Snead finally caught a tautog, he has been learning how to fish for them.  Well he learned, what we all know, it can be a pain in the buttocks.  I bounced between the beach and the computer all day, while I was doing laundry.  We were catching a lot of shorty stripers and spot.  Jeff Wildonger surf fished Beach Plum Island State Park this Sunday, and even set a crab pot in the bay with his kayak.  "1 small weakfish and 4 dogfish. Ate one of the dogfish. Caught 'em and within 2 minutes he was on the grill, steaks still moving! The only way to cook a dog!!!".   Apparently he had the 3 crabs today for lunch.  Aside from surf fishing this weekend, I was watching people catch/fish online, in 3 different states.  That is a lot to keep up with, but fun.
Fish On!!
Rich King