Striped Bass (Morone saxatilis )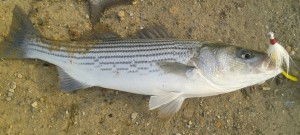 Also known as … Rockfish, linesider, shorts, schoolies, shorties, and surf rats
Description …
Striped bass are silvery overall in coloration with a white belly.  Their back tends to be dark with an olive or dusky brownish color. There are 7 to 8 black stripes that run horizontal down the back and the sides of the body.  The first dorsal fin's spines are stiff and the gill cover is hard and sharp.
This is one of the most sought after fish by commercial and recreational anglers.  It is a strong fighting fish that is a lot of fun to catch.  I tis also closely regulated these days by the ASMFC because of its popularity to guard it from over fishing.  These fish will feed on spot and live eels for baits, bunker chunks from the surf.  Plugs, spoons and metals are good for lures casting.  Trolling stretches, bombers and mojos will produce fish from the boats.  They "run" in the fall and spring up and down the Atlantic coast in  large schools.
Delaware's recreational striped bass fishing limits at one-fish-per day with a "slot limit" size of 28 through 35 inches, except for the period from July 1 through Aug. 31, when the allowable slot limit size is 20 through 25 inches. Only in the Delaware Bay, Delaware River and their tributaries.
Non Offset Circle Hooks Required For Striped Bass

Resident bass can be found in many areas of the Inland bays, Delaware bay, Lewes Canal, Masseys Landing, Broadkill River, Mispillian River, Murderkill River, and many other tributaries.  These are referred to as schoolies, shorties, and/or shorts.  They can be caught year round with small spoons, swim shads, and plugs.  Bloodworms are a great bait for striped bass anytime of the year.  They will travel in schools and can be commonly found around structure such as piers and along grasslines or marsh beds.
Hybrid striped bass are found in Lums pond and have a different creel limit than tidal waters … no season, 15 inches and above, and 2 fish per day per angler.  A hybrid striped bass (M. chrysops x M. saxatilis ) is also known as a wiper or white rock bass.  It is a cross between a striped bass and a white bass. They are distinguishable from striped bass by broken rather than solid horizontal stripes on the body.  The body is more of a traditional bass shape (wider body) and not as streamlined as a striped bass. 
Non Offset Circle Hooks Required For Striped Bass