Clear Nose Skate (Raja eglanteria)
Also known as … skate, jersey flounder, Delaware state fish (joke)
Description …
The clear nose skate is probably the most common caught fish on the Delaware shore.   When they are hitting bait constantly, people literally want to call it a day.  they are attracted to cut baits and anything that puts off a scent.  We have even caught them jigging for flounder.  They are a broad diamond shape with apronounced pointed snout that is almost translucent. The long tail has numerous small spines but none are barbed, they run along the back and down the tail.  They are brown to grayish in color along the back with numerous darker spots and some light spots, and the belly is white.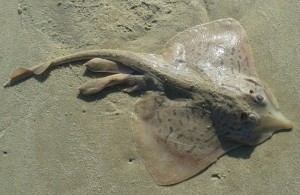 They are commonly used for bait by shark anglers and their meat from the wings is actually rather tasty when prepared correctly.
Delaware Creel Limit …  None
Recipe for cooking skate they are very tasty.