Bunker or Atlantic Menhaden (Brevoortia tyrannus)
Atlantic Menhaden (Brevoortia tyrannus)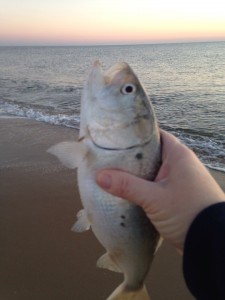 Also known as … Bunker, mossbunker, fatback, bugfish, bunka
Atlantic Menhaden have a compressed body that is silvery in color with a distinct black shoulder spot behind the gill.  They feed on plankton and are important filter feeders in all estuaries along the east coast.    They are the most sought after fish on the east coast as bait in recreational and commercial ventures, for fish oil, fertilizer, and fish foods.  Commercially it is a highly regulated fish.   They are a very oily fish and as a food source for humans not very desired though some folks do eat them.   They migrate up and down the coast every year, and are followed by many predatory fish such as striped bass and bluefish. 
 They are used as bait either live lining from boats or cut into chunks and fished from the surf and boats.  This is known as bunker chunking.  The oily fish can attract fish quickly as well as many undesirable catches such as skate, sharks, and rays.  In fact Menhaden oil can be purchased and used to soak baits such as squid strips, clam and even chicken.  The best method is to cut the fish into pieces or whole chunks (top to bottom), and hook it through the meat into the skin out of the back near the spine.   Scaling the fish is not necessary.  The heads are popular to use among many anglers for striped bass, in fact some folks prefer to only use the heads.  Large striped bass will follow bluefish that are feeding on bunker and the bluefish will leave the heads behind during feeding.  Bluefish strike their prey from behind, chomping the bodies, and leaving the heads.  The slower "cow" bass will eat these heads as they drift down from the bunker schools. 
When the bunker show up in Delaware the striped bass and bluefish are never far behind.  Some folks use a large treble hook with a weight on the shaft known as a snag hook and cast that into bunker schools.  When a fish is snagged, they let it drift to the bottom to try and catch the larger bass following the schools.  Bunker can be purchased fresh or frozen at most bait shops and the freshest is always preferred.  The fresher the fish the oilier it will be and attract more fish.  Many recreational anglers use cast nets to catch the more juvenile sizes in our inland bays.  bunker travel in schools that contain the same sized fish.  Bunker is also a popular bait for crab pots.   Lewes, DE used to be one of the largest Atlantic Menhaden fisheries on the East coast.
Delaware Creel limit …
None