Delaware Commercial Fisheries and Farmers Face an Uncertain Future in light of the Coronavirus
One of the first effects we saw from coronavirus that few knew about or payed attention to were the regional and state impacts to our fisheries, including commercial fishermen, as well as our shellfish farmers. With the restaurant and seafood market closures came a drastic decline in demand for seafood, particularly local, fresh caught or grown seafood.
This happened almost overnight the first week of March. "Ninety percent of our fish are sold in New York. The buyers told us to pull our nets, they weren't going to buy anymore. We were done. We haven't even filled half our quotas. We didn't know what we were going to do." Brain Hoffecker, commercial angler out of Smyrna and Woodland Beach area. I spoke with Brian and some of his fellow anglers Monday, March 23rd, while they were pulling in striped bass. So if they can't sell, why are they still fishing you ask?
Not long after the "crash" one of the buyers told the crews we can take about a thousand pounds to a ton of fish, We will freeze it and save it for summer when the markets open back up, but that is all we want. So the boys went fishing. "We haven't even come close to half our quota for this year, but we have to fish to make money. The market is usually four to upwards of five dollars a pound wholesale. The buyers were offering a dollar a pound. We had to come up with another way to earn money. "This isn't happening with just striped bass, it is across the board. Flounder, black sea bass, clams, even welk. Everyone is taking a serious hit."
Ed Hale, Marine Advisory Specialist, Delaware Sea Grant … "Shellfish farmers and dealers of our newly formed shellfish aquaculture industry in Delaware, now face market closures, at a time when they typically would see increases in sales that would help move adult product to start growing juvenile seed oysters."
So what do you do when you can catch fish and have no where to sell, or rather no one to buy? Brian and the boys came up with a plan and talked to DNREC. "We asked them (DNREC) if we could sell whole fish to our friends and community. We can catch, people need food, seems like a good idea."
DNREC agreed and allowed sale to the public. Brian … "I put it out on my personal Facebook page that we were selling some fish. I figured I would sell a couple hundred pounds, we sold over five hundred pounds the first time. Now we are all working together to help each other fill our quotas, run our nets, and feed our community. Our buyers are picking away at some loads, and the rest we are offering to our community. This is also new to us, selling a few hundred pounds of fish, one fish at a time to different people, usually we just offload onto one buyer."
Commercial anglers always get a bad rap by recreational anglers. I hear it all the time, but I now they live a life that is not the easiest. One thing I know for sure is they understand the fishery better than most. "We know we have to keep fish in the water or we won't have more fish next time, it is just common sense. What you saw us catch today, 38 fish, was half our entire quota for the year. That's why we get upset when people give us grief saying we kill everything in site, we don't. We can fill our quota in less than three days. We are limited to 1230 pounds for a quota, that averages to around 60 to 70 fish. "
I spent the day with these boys fishing. Okay actually, I stood there out of the way and watched a well oiled machine of four men, run six nets. In under two hours they checked all the nets and loaded up with six hundred and fifty pounds of fish, there were only thirty eight fish. We were back at the dock before my coffee got cold.
Brian … "We don't see these big fish this time of year, these are really early. Usually they are smaller, we don't set up to fish this time of year this is new to us. Usually we wait until April for the prices to go up in the markets. Last week these were averaging ten pounds, this week they are twenty. That one big one we rarely see. We prefer the smaller fish for market, our buyers want specific sized fish, especially for the New York fish markets."
I wanted to check out this commercial fishing "process" for myself. Monday morning I met the boys at the boat ramp. I had no idea what I was in for, it was blowing, and raining sideways. I was head to toe in my Helly Hansen gear and glad for it. On any other day I would be on a beach fishing for striped bass. I already know the spring run is underway. I don't know if they are running the beaches, but there is only one way to find out, but … yeah, I can't surf fish the closed beaches. we loaded up on the boat and headed out, barely a half mile and there was the first net.
DSF … "So how far out do you go?"
Brian … "We don't go that far, the first net we will check is north of here, not too far, then we work our way back. Today we are working that direction, it always depends on the tide and the wind. Some days we work south to north."
The first net we come up on, Beau hooks the line and runs it across the bow. The line anchors, window weights, are passed over and dropped on the other side. Now two ropes are across the boat. Two guys work the lines and feed them off the other side as the other two pull in the net. As a fish comes in with the net, the process is stopped to free the fish from the net. The first fish was a beast, my eyes were wide. It had to be a solid forty-five pounds. "That is rare to catch one that big, these are usually much smaller". All I could think of is why didn't I bring a fishing rod. The rest of the fish that were pulled in were in the twenty pound range. Still a respectable catch for hook and line for Delaware.
These are very large gill nets. Large meaning big holes for smaller fish to pass through. I notice there isn't any by catch. "We rarely catch anything but bass, that one carp is probably the only we will see all year." There was one perch in a net attached to a fishing line. "We get a lot of broken off fish caught up, the hooks and line tangle in the nets."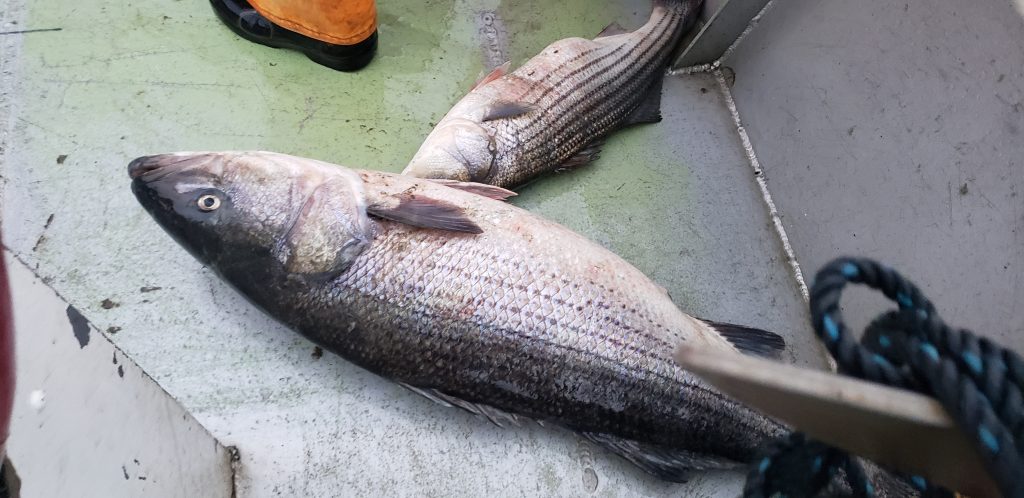 When you watch recreational anglers online point fingers blaming commercial anglers for depleting "their" fish and all the other drama. Then you spend a morning watching these commercial anglers fish. You quickly realize the recreational anglers have no idea what they are talking about. Today I saw a load of fish that one recreational angler can catch in a couple weeks, loaded onto a boat to feed a community and support local families. Now that may seem like a lot of fish, but when you look at how many recreational anglers are out there, in comparison the commercial catch quotas are a drop in the bucket. The commercial anglers also make use of everything they catch. There isn't a catch a and release mortality. With these big gill nets they don't catch small fish. It was a real eye opener.
It was a pleasure and an education watching these guys fish Monday, to help supply their own community with needed food. They are working with and for one another, to help each other through this difficult time. No one on the boat was an employee, they are all commercial anglers with their own ventures, working together. That is how it should be everywhere. I was impressed and looking forward to another trip, maybe some crabbing or more striped bass.

Fish On!
Rich King