Weill it is December first and it is sixty degrees outside, merry flip flop weather.  Crab pot season has ended and they need to be removed from the waters.  This is a great day to clean and repair your crab pots.  Check the turtle guards if they need replacing.  A pressure washer works great when the pots are still wet from soaking to remove the silts and other build up from the cage.  Crabbing season for pots: Mar. 1 – Nov. 30, and you can use other gear year round.  Pots must be removed by the twenty eight of February.  Make sure the floats are still adequate and have all of your updated information, full name and permanent mailing address, on the white buoy or a waterproof tag.  This summer Dave Swatski left his pots outside, in front of his garage, and he ended up catching a skunk.  That made for an interesting day, fortunately the skunk left of its own accord.  Be sure to store your pots in a shed and make sure they are closed to avoid any unwanted visitors.  This happened in the summer, but during the cold months of winter animals will explore and forage for food, a smelly crab pot makes a great place to look.  Especially in seasonal communities, where human traffic is reduced.
The weekend was a great time for the holidays, I hope everyone had a fun time with their loved ones.  Saturday we met Andrew's Family at Fenwick Island state park and drove them out on the beach in the Barnacle, the newest addition to the fleet of the Black Pearl designated driver service.  We were all set up to take him and his family surf fishing for the holiday, a wish that was made on the Hero network.  Andrew is a cool kid, a little shy so I kept the cameras in the truck that day.  Once he got used to everyone, he talked fishing non stop, that kid loves to fish.  We had a good time showing him the ins and outs of surf fishing.  He had casting down by the second throw and I was impressed.  Usually even people who can cast a regular light tackle rod have some trouble using the larger surf rods, he picked it up like a champ.   We only caught skates on Saturday but the family had a fun time at the beach and we were happy to help them complete their wish.  Big thanks to the Black Pearl designated driver service for the ride, Chalrie K's barbecue in Ocean View for cooking up some great chicken, Old Inlet bait and Tackle for the donated bait, and Lewes Harbor Marina, Diamond State Tackle for the gear, and Chris Barton of Over the Waves sand sticks gave Andrew a sand stick to get him started with his surf fishing gear.  Thank you everyone for coming out and fishing with Andrew he had a great time surf fishing the Delaware beaches.   It was our pleasure to bring him out to the sandbox and show him how to surf fish.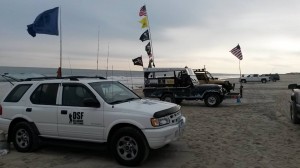 The striped bass fishing has been slow.  Very few keepers have been on the beaches and the same for shorts.  The boats are not doing as well this year either.  Usually by this time of year the fall run is in full swing and we are seeing a lot more catches.  The lumps in front of sea colony on Saturday looked like a parking lot at the marina, from the beach.  Lots of boats and very little catching.  Bombers, stretches, and eels have been working when the fish are biting.  There are plenty of shorts near the Indian river inlet and the inland bays.  You just have to be around when they are schooling.  Bucktails, swim shads, and small poppers work great on ultralight gear for a fun fight.  Fishing the marsh lines on the outgoing tide works well for these shorts, it is a lot of fun and you might get lucky and find a keeper here and there.  These are residential fish and will be here all winter.  The folks up north in Jersey are seeing random catches form the surf and many of the best surf casters are saying this has been the worst year for stripers from the beach.  The boats up there are doing good when they find schools of bunker.  The fall migration is not over, but the catches have been bleak this year.  The stocks are definitely down in numbers and if the lack of catching this year and time it has lasted is not proof of that, then I don't know what is.  Some flounder have been caught with stretches while fishing for striped bass.  Sea bass action has been hot, and tautog is definitely picking up.  Not a lot of bluefish this year but some have been caught.  The skate and dogfish action in the surf is certainly consistent.  If you have a neoprene wet suit or waders you can do some clamming.  Personally I would rather buy them than get chest deep in this cold water, but some people like that challenge.
Big news for DSF … Thank You!!!! Way to go DSF fans and the power of social media. You got us a meeting scheduled for Wednesday with a local TV station.  We are looking forward to serving the community even more with a local Delaware outdoors TV show.
Fish On!!
Rich King