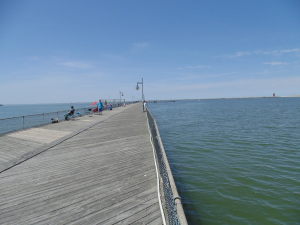 The Cape Henlopen pier as you are already aware has been closed for repairs. Since that press release, I have heard from hundreds of people that would like to know why, when, how, and many have ideas to suggest improvements of what is already there. I have heard it all from bring the "T" at the end back, to build a new pier. I called Ray Bivens the Parks Director, last week and asked him if I could interview him about the Cape Henlopen fishing pier and what was being done. He said of course, I will contact you next week and have Cindy Todd, Chief of Construction Projects on a conference call to help answer any questions. Today I interviewed them and asked a slurry of questions, some of which were just to answer my own curiosities.  They sent me the engineering report the other day, which helped me formulate my questions.  Ray Bivens is an avid angler, he and his family fish the parks a great deal. The Cape Henlopen fishing pier is over seventy years old and was used to load mines onto ships when Fort Miles was an active military facility. The pier was constructed to withstand the heavy traffic of large equipment. This is one of the reasons it has stood the test of time, storms, and general use from the public. The engineers that inspected the pier told parks in 2009 that the pier was on its last legs, literally. The pier has been fixed before by using encapsulating technology and that will be done again to repair the pier. However this fix will only extend the life of the pier another two or three years. At an estimated $900,000 to fix 125 pylons and roughly the same amount to fix the decking it is no wonder replacing the pier is being considered. There are twenty five pylons that need to be immediately fixed just to safely open the pier back up, however by summer time there are many that would possibly need to be fixed as well. Also once you have all that equipment there it is more cost effective to just fix everything you can at once. It was recommended by the engineers that the parks fix the 125 pylons. The problem that was pointed out by the engineering firm, Baker, Ingram & Associates structural engineers, is once a structure that is this far gone starts to deteriorate, that breakdown increases even more rapidly with time. The old end of the pier or "T" basically fell apart in no time once it reached a certain point. The pier now as it stands, is literally looking at a faster breakdown as time progresses. Once all of this was explained to me and I read the engineers report, I realized the best solution is to replace the pier as far as costs over time and the safety of the public. Not to mention I really want to have the "T" back. Ray Bivens mentioned he saw where I mentioned I would like to see an ocean pier. I said I would like to see both, but then again I love to fish, and that would be the best of both worlds. I suggested putting one in front of the Gordon's pond parking lot, others have suggested the possibility of herring point. Evaluating the possibility of an ocean pier was brought up by Secretary Small today at DNREC's budget hearing when requesting next year budget priorities. Hey I figure if you are going to bite the bullet and build one, you may as well build two. I can dream.
So how much does it cost to rebuild the pier with the "T" on the end to its original size, Ray Bivens and Cindy Todd said roughly twelve million dollars. I honestly thought it would cost more than that, and was relieved to hear that number. So where do we get the money? That is the problem they are looking into this month. The parks collectively generate about thirteen million dollars of revenue a year, roughly 65% of their operating budget. That is all Delaware State parks. That doesn't sound like a lot as crowded as they seem in the summertime down here, but believe it or not we actually make more money than Maryland or New Jersey with less parks. The parks statewide only have a working budget for repairs and maintenance of about 2.5 million dollars annually, for all of the parks to share. There is a points system assigned to these maintenance projects. It is based on a number of factors such as recreational needs, historical value, and safety. The pier has been on this list for over a decade. 2.5 million doesn't go far when you consider that CHSP recently spent 1.8 million over the past two years to fix the outdated sewer pipes, that was the original system from the military base. In fact most of Cape Henlopen State park buildings are re-purposed military structures. About three fiscal years ago Delaware State Parks received no capital money for projects statewide. One thing I learned was the parks are responsible for many internal maintenance issues, and these differ from park to park. For instance CHSP and Lums pond have their own waste treatment facilities and have to financially maintain these facilities independent of the other parks. So with all that being said, I soon saw how it will be very expensive to rebuild a new pier. The other factor would be time. It will take upwards of three years to build a new pier with all the bells and whistles. For now the parks are definitely going to fix the pylon's issues, and the decking there now will still last a good two to three years, according to the engineer's reports. The problem is the repairs to the pier poles will last, but how long until the rest of the pylons need to be fixed. They hope to have the pier reopened by Memorial Day weekend, because that is obviously when the season kicks into full gear. They may be able to open it faster, that depends on time factors with construction. You have to realize crews have to work with the tides and weather.
One company that uses the pier and is also hoping for repairs soon is the SPI Pharma company. You ever notice the water spraying under the piers, or the equipment under there? SPI Pharma has seventeen wells that they use to collect sea water to extract magnesium from the sea water for making milk of magnesia. The water that is spraying under the pier is the water they return from the extraction process. They do pay the parks to have access to the pier for these wells. That money is included and added to the yearly income of the parks as a whole. This repair will only be a two to three year band aid and will affect their business as well as everyone who uses the pier. Right now engineers are determining if a safe path is possible for their crews to check on these wells or they may have to use barges. SPI Pharma used to drive vehicles onto the pier to check their equipment, but recently they had to stop that as well. So we as anglers and pier visitors are not the only ones that are affected by this issue. I asked if they were considering dredging the area around the pier to increase the water depth. It was pointed out that boats used to have to park there and over the years it has filled in with sand. That area collects sand from the cape's point area and always will. This is something however that is being considered, but on what scale was not known. We all know fishing the pier at a dead low tide is very unproductive closer to shore. During a heavy blow out tide you can all but walk to the end of the pier on land. I did ask why the big gate is at the far end of the pier, and that was left there when the parks closed the "T" and just moved forward when they added more length to the pier. I suggested taking that down to the same height as the rail so a couple of anglers could fish the end of the pier. I also asked about taking the cement platform on the left hand side and making that accessible to anglers as well. A fish cleaning station with water is being considered for the pier, but it is not a cheap addition, but would keep people from cleaning fish in the bath house. Adding a port a potty would be great at the end of the pier, but it is not safe to drive a vehicle out there to pump it out at the moment. More fixed benches may be added at some point. There are a lot of things people have suggested they would like to see at the pier. Right now many people just want it open again and it will be in time.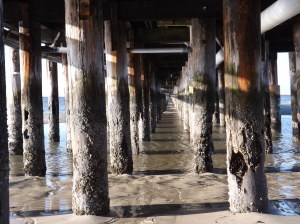 I asked about replacing the pier if it takes three years or so how would they go about that. Could the old pier remain and they build one near the pier now. That is when the ocean pier was mentioned. That is a great place for flounder fishing, but an ocean pier would have its own advantages. Hence my comment why not build two and have the best of both worlds. The old pier would have to be removed to build a pier in its place, and that would be a huge loss for the parks and everyone. Building a new one next to it would be ideal, especially if they left the structure of the old pier. That would make great fishing structure, yup, it is all about the fishing. Now the big question of where do they get the money just to help maintain our parks?  That will come up in December at several public meetings. The parks are considering raising some of the fees, and frankly I don't blame them. We have amenities in these parks that cost a lot of money to maintain, costs for park employees has increased, even lifeguard wages. The parks folks have a tough job, and Cape Henlopen state park is not making it easy on them. She is old and out of date in many areas and this year's administration is going to have to take a look at these issues. The new bike trail, before anyone goes nuts about that cost, didn't cost the parks budget, it came from a special appropriations that was done by the state and has actually helped increase traffic to the park. Public fishing license money does not go towards the parks. I did ask have they ever consider charging to use the pier for people without a fishing license, like Ocean City, MD does at the Oceanic pier? The problem would be possible diminishing returns, but that was considered at one point. Let's face it, the parks need money to maintain and rebuild some very old structures. There is a historical value for the pier and that might help alleviate the costs. The money has to come from somewhere, and the parks tend to have to raise their own money to do anything. How they do that will be addressed at the next set of meetings in December. The Cape Henlopen Fishing Pier will reopen, that is certainly good news and really all I was worried about. Having to pay a few extra bucks to use the parks is not going to hurt anyone's wallet. If you look at the cost of our drive on beach tags, they really only cost $37 to drive onto a beach, the rest is a parking pass for all state parks. It is only $4 to park a vehicle in the park if you are in state even if you have a carload of people. We as park users need to help do our part by paying a little more for parking. You out of state folks will probably see more of an increase than us instate, but that is how it always works. No one likes change, but these parks need to upgrade with the times and economy.
Fish On!!
Rich King