Cape Henlopen Pier Gets Trashed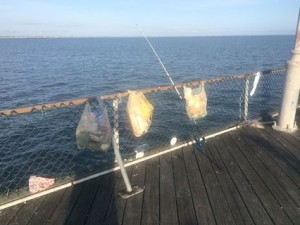 Yeah I know this is old news,but this has to stop!  It took less than 24 hours and the Henlopen pier is trashed from people leaving bags of garbage hanging on the rail.  It boggles my mind how people can carry this stuff in and yet can't take the trash with them when they leave.  I mean seriously, your garbage weighs less than it did when you took it out there.  Maybe the parks should create a rule that bags are not to be hung on the fences, or rails at any time.  These litter bugs tie their bags to the rail, fill it with trash and then leave it there.  Last I talked to the parks about this issue at Indian River Inlet I was told that it cost too much to keep trash cans and pay to haul off the trash each week.  People will empty their cars into the trash containers until they are overflowing.  That is why the carry in carry out rule was put into effect.  
Unfortunately some people are too ignorant and uncaring to follow that rule.  The parks have a hard job as it is enforcing rules in the parks and now they have to babysit litter bugs.  I have watched birds tear into these bags only to see all the trash blow into the water.    This issue is not the park's fault either, it is the litterbugs who leave their trash behind and do not care for the area.  I think the parks need to take a hard look at the Cape Henlopen fishing pier and Indian River Inlet.  Maybe they need to hire someone to solely write littering tickets, the amount of fines collected would certainly pay for the job.
Do people really need to be babysat this much?  Pretty sad when grown adults can't clean up after themselves.  The other problem is the parks do clean this up once a day and the people who leave these behind know this, I guess their mammas work at the parks too.  Carry in Carry out people it is simple to do.  If you see someone leaving their garbage behind, call them out for what they are, litter bugs.  Call the ranger dispatch number,  302 739 4580.  If it is after hours call the police, this is the litter control law for Delaware.   The fines for littering in Delaware are … First conviction: minimum fine of $50 and up to eight hours community service. Second conviction within two years: minimum fine of $75 and up to 25 hours community service.  If the offense occurred on or along a Delaware byway, as defined in §101(a)(9) of Title 17, an additional penalty of $500 must be imposed for every first, second, and subsequent offense.  This is a problem everywhere in our society not just our state parks.
Fish On!!
Rich King