Black drum, striped bass, bluefish, and spiny dogfish are in the surf
So, how many of you got stuck on Beach Plum Island?  That is a bay beach, and they are harder to drive on.  The beach there has always been difficult to drive.  The storms, winds, and high tides have made the sand very mushy like sugar, would be a good description.  We have been going out there for the past four weeks and the sand has been difficult.  You must air down when you are on the bay beaches, and all beaches for that matter, no exceptions.  If you do not air down, you will get stuck, the sand does not pack like our ocean beaches.  Not airing down can dig up or rut the beaches even more.  There have been many complaints this weekend about people not airing down nor having the proper equipment.  I can only ask people to follow the rules, and remind them, I can not enforce the rules.  If you see someone breaking the rules, call a ranger.  When you drive on a beach there is usually a track everyone follows, then you move out of the track to park in your spot.  Driving all over the place tears up the track, and makes the beach even more difficult to maneuver.  Please take care and try to follow the tracks of others.  We have all been waiting for the fish this year.  Last year the fishing started earlier, this year not so much.  Everyone is excited they are finally catching fish, and sometimes the excitement can override our common sense and courtesy, it happens.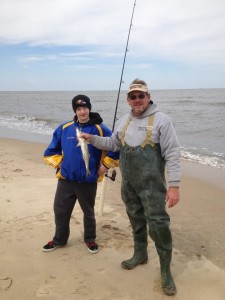 Few days ago Beach Plum Island blew up with fish, mostly keeper striped bass.  I am sure everyone has seen the pictures on the DSF Facebook page, and the report from the other day.  I asked the guys sending me pictures to not post them, or put anything on Facebook about the catches.  "Wait a few days let the folks down there have some fun, I will be there after work".  Besides, the fishing there will turn from hot to not, in no time.  One day is good and the next is not, and that is exactly what has been happening this week.  Once the fish move north from the Chesapeake we will see them on every southern DE beach.  Fish, being large migratory striped bass.  The boys agreed, we let some friends know we would be fishing there for a few days, and the bite was heavy … come on out and fish.  Little did we know that morning it would be announced on Facebook and go viral.  Once it was posted, my phone exploded with calls and text messages.  Do you know how hard it is to have a business conversation with text notifications going off every three seconds for an hour?  My Facebook pages lit up with messages and posts, it was time to let the cat out of the bag.  DSF posted I went surf fishing, caught a blue fish, keeper striped bass, and a flounder then wrote the report.  Believe it or not sometimes I actually have the time to fish for more than fifteen minutes.   Since that is a public state park beach with drive on access, it is an area we talk about.  Broadkill Beach has public access, but is walk on only at the general store.  Too bad that is not open yet, the homemade donuts are epic.  I have been fishing Broadkill beach at a friend's house, so I can have some privacy, and I am in the middle of trying to move.  Thanks to some friends, I am now settled in for the most part.  The office is still organized chaos, but now I have the time and space to work on that issue.  I might even get more time to fish this season.  I rarely talk about my own fishing, this site is not about me, it is about the readers and our tidal waters.  The pictures in the last report of me are the first I have posted of myself in over a year.  There are some who feel I do not know how to fish, they are sadly mistaken, I just have little time due to running this business. So what have we been up to?? …..
For two weeks prior to the striped bass showing up at BPI, I have been fishing the northern bay beaches looking for them.  I found them a few times, managed to keep that  under my hat and off the internet.  I was following the fish down the coast and a lot of friends up north were doing the same.  Woodland Beach blew up two days ago with nice keeper striped bass.  Slaughter and Fowler's beach saw some hot action as well, and all the other lower bay beaches.  Small schools of striped bass blitzing the beaches for food were on the move.   The bite came hot the other day, and I unwillingly had to post the info, so I could have some peace and quiet from my phone and computer.  Not blaming everyone that got in touch, after all this is my job, reporting on the fishing in our tidal waters.  Since then DSF has been accused of spot burning.  I have no issues with putting up accurate information for a public place it is my job, just like the real time weather reports we do during storms.  I don't think there is a clam left in Sussex county and bunker is hard to find.  Sorry if we caused everyone to sell out of bait.  I will be tossing plugs and spoons today instead.  I never use bait unless I am keeping the fish I am catching anyway.  I see no reason to kill one fish to catch another, just to release the fish I caught.  I prefer the thrill of the hit on a spoon or plug, it is that live action many anglers seek.
In the past few days keeper striped bass have shown up on all of the DE beaches.  Even Dewey Beach saw some hot bluefish action the other day and spiny dogs.  Chris Turak was surf fishing Assateague Island the other day hitting nice sized bluefish, and his neighbor got a nice drum.  There are fish all over the place, since they do not sit still in tidal waters chasing baitfish.  Most of these catches have been on the outgoing to the incoming tide, roughly a 3 hour window.   Spiny dogfish are everywhere.  Beach Plum and Broadkill Beach has been hot one day and dead the next, so putting all your efforts into that one small area may not produce a good day of fishing.  Many people have been sending me reports from all over the place.  The fishing has finally heated up, something we have all been waiting to happen.  Gear up and get out there, go catch a fish and have some fun.  I am in the process of trying to organize some beach clean ups and will announce them soon.  We will start with Beach plum Island on Monday morning, 8 a.m. (ish) donuts will be provided and trash bags.  Every week we will be somewhere cleaning up areas, will ask for help, and provide food for our volunteers.  Massey's Landing could always use some help, that place gets trashed constantly.  We always take time from fishing to clean our areas of trash.  It has always been my goal with DSF too help our community that thrives and survives on the folks that visit this area.  DSF donates time and money to benefits, plants beach grass, volunteers for cleanups, helps promote non profit events, and anything else we can help with in our community.  The only thing that keeps the beach communities alive is tourism dollars.  People look to DSF for solid information on what is going on out there, so they can have a better experience fishing Delaware's tidal waters.  So, get out there, catch a fish, and have a blast.
Fish On!!
Rich King