Small Craft Advisory For Lower Delaware Bay until noon
It is almost low tide (9:5 AM), the surf is calmer, but still wide with wash. Seas are still upwards of eight feet and will calm down later this afternoon. There are few swales, but the beaches were washed smooth in most areas. I'd be careful at the point even without seeing it I can imagine there are some deep swales. The one spot that washes over into the dunes may have carved out a deep slough to drain.

There is little debris on the beaches and the wrack line is nonexistent. High tide today (4:47PM) will come up about as far as low tide is now or a bit more.
The inland bays are a little fuller than usual. The marinas are still higher but that issue is over for boaters. Several boats broke loose or came off their lifts yesterday. The inland bays will be fine by the next high tide cycle.

Surf fishing conditions should be like the past week by Monday. Today and Sunday will be a wide wash area and still some beefy wave action. The fishing before the storm should pick back up but not for long. The water temperatures have dropped into the low sixties. This storm may have blown out some fishing but fall fishing is still in the swing. The summer fish will be leaving shortly.
Be careful driving in areas that may have swales. That sand was really stirred up on the beaches it could be loose and fast (quick). Even is the swale is empty check the ocean side "bank or edge of the swale before you drive across it. That edge is the loosest sand.

Water was up so high yesterday we walked along a dune base line to get pictures at Cape. Not sure what was buried there but that pair of shoes and pants are now in the trash. Sank to our knees to midthigh in seconds. The sand turned black and the smell was unreal. Probably an old dolphin that was buried.

If you find any marine life washed up on the beach, mammals only. Contact or report them to MERR.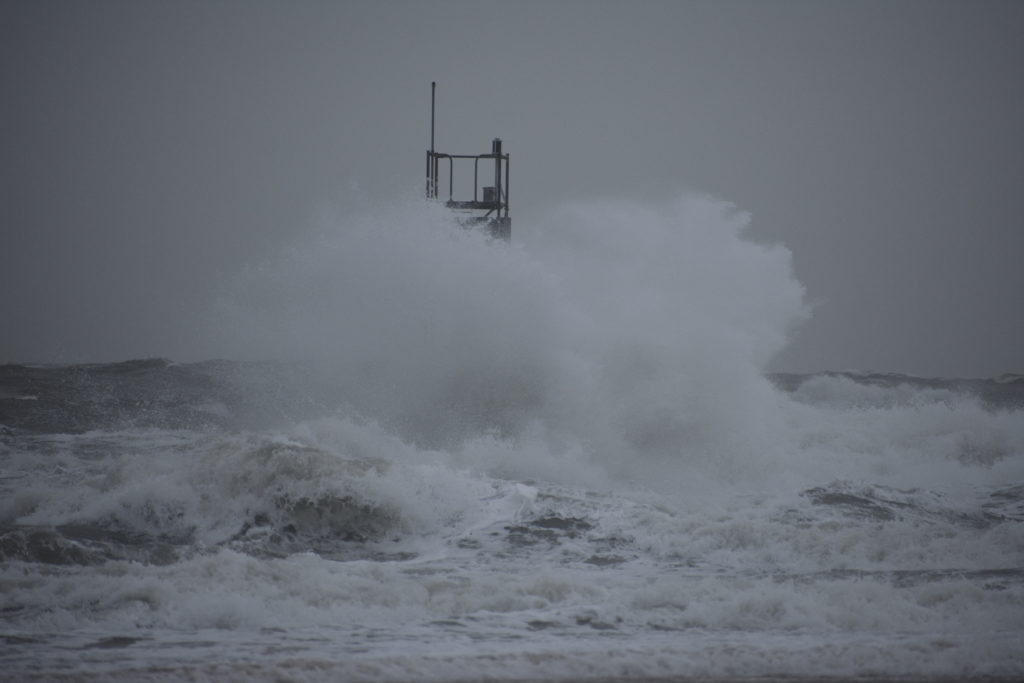 Use the area's beach web cams to check conditions.

Indian River Inlet web cam The DelDOT traffic cameras on the north and south towers.

Rehoboth Beach web cams …
Rehoboth Beach Boardwalk web cam
Rehoboth Beach Cam
Rehoboth Avenue Webcam

Bethany Beach webcams …
Bethany Beach South Webcam
Bethany Beach Webcam South Surf
Bethany Beach Ocean View Cam
Bethany Beach North surf cam

Lewes …
Lightship Overfalls Live Webcam

Ocean City
Ocean City Live
Marine Forecast NOAA …

The wind on our ocean waters is forecast to settle into a
southerly direction for today and tonight. While there will be
some lingering 25+ knot gusts early this morning, speeds are
forecast to be mainly 10 to 15 knots with gusts up to 20 knots
for today and tonight. Seas will remain rough. They should be 6
to 10 feet this morning, subsiding to 5 to 6 feet for tonight.
Due to the expected waves, a Small Craft Advisory is in effect
for today and tonight for our ocean waters.
Wind speeds and wave heights will remain below the Small Craft
Advisory criteria for today and tonight on Delaware Bay, with
one exception. The waves on far lower Delaware Bay will likely
remain around 5 to 6 feet this morning. As a result, we will
keep a Small Craft Advisory in effect for lower Delaware Bay
until noon.

Outlook… SCA conditions on the ocean will continue Sunday and possibly
into early Sunday night. Fair weather. After that, sub-SCA
conditions much of the upcoming week. Showers possible Tue
night.