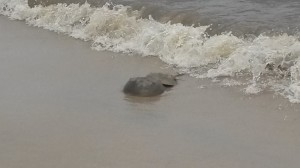 We have had some exciting fishing here the past few days.  First and foremost there are sand fleas in the surf.  Which is great news since they are a food source for many fish, and great bait if you do a little digging.  You don't need an expensive sand flea rake, just use a minnow net and hold in in the wash when the water is retreating from a wave.  Usually you will find several in the net, or do a little digging and you will also find plenty.  Our favorite at times is to get the kids to collect them, but some (kids) tend to freak out when we put them on a hook.  Definitely a different way to explain nature and the food chain.  Horseshoe crabs are starting to make an appearance in the surf up and down the Delaware Bay beaches.  Please be careful handling them if you happen to catch one, do not pick them up by the "tail" and hold them by the shell to release.  If you flip them over in the sand at the surf they will crawl back into the water.  We caught several the other day including two that were paired up, or mating.  The birds and the bees and the crabs in the trees?  Anyway spring has definitely hit us in full force these past several days.  Pollen is turning everything yellow and my allergies are in overload.   The best part about all of this the surf warmed up finally and has been averaging fifty two degrees in the mornings.  The fishing has certainly amped up thanks to these conditions, more food and warmer water.
Over the weekend we were fishing Beach Plum Island State Park.  On Friday night James and his crew were out for striped bass when they started hitting black drum on bloodworms.  When they called I figured, okay, no big deal a few drum showed up over a week ago and that dead 25 pounder washed up on Broadkill Beach last week.  So naturally I thought they were just catching little black drum, nope, they were huge!  The boys sent me a few pictures and I was pleasantly surprised to see upwards of sixty pound drum from the surf.  I told them I would be there in the morning and had a hard time sleeping that night.  I almost loaded up and went out then, but the bite turned off around ten that night.  I was meeting Mike and a few people to fish the next morning anyway.  Marathon fishing is fun, but I also enjoy a good night's sleep.  I met Mike Andrews and the boys the next morning and we set up to fish for striped bass, and some big drum.  Everyone was talking about the night before and the fact it was an evening bite.  "Did you hear about last night?"  My phone was blowing up from everyone I know wanting to know what was happening.  I turned it off, I wanted to fish and relax, I had a long week working in the salt mines.  We knew the bite would be on in the evening, but we wanted to get some time in the surf, and hope to get a striper for the State Surf Fishing Striper Wars.  It turned into a skate and horseshoe crab fest that morning.  We all left around one p.m.and I headed to town to reload for the evening excursion.
I met Scott Jost, Aahron Jost, and Corby Fulton later that afternoon, and we set up for the evening bite.  We had plenty of bunker, bloodworms, salted clam, and not so fresh surf clam (2 days old but still alive).  The boys were there about five minutes ahead of me and just getting started.  I set up my gear, baited with bunker looking for a striped bass, and proceeded to wait.  Within five minutes of casting out the telephone pole (Scott's 14 foot surf rod) it bent to the ground real fast.  Our neighbors are yelling get your rod, because we were all sitting there chatting away.  Honestly how often do you get a hit that fast in the surf?  Aahron jumped for the rod and stated to reel it in, you could see the excitement on his face.  He horsed in a nice thirty to forty pound black drum, we took some pictures, and released the fish.  They rebaited the hook and cast out again, WHAM!!  Rod bounces a minute later, and Aahron reels in another forty pound black drum.  At this point he has an ear to ear grin and horsing in these fish has already tired him out, but he is ecstatic.  Scott was very proud of "the boy" to say the least.  Our neighbors are hitting one of these fish every five minutes, it was chaotic to watch.  That is what Corby and I did, we watched this whole scene of fishing madness for about an hour and a half.  We were just on the edge of where all the fish were hitting.  There were a lot of jokes going around at that point.  Aahron reeled in two more drum and shook one off in the surf.  The largest was roughly fifty pounds.  While all of this was going on there was a sixty pounder caught farther north on the same beach.  It was dubbed that night as the drum blitz of spring 2014.  We had a great time and Aahron Jost caught his first black drum and largest fish from the surf all in one outing.  We stayed until about eleven p.m. and then headed out.  While at the air pumps Aahron handed the tire guage to us and said … "You get the tires, I got all the fish"  We all looked at him and laughed … Good thing we like that kid!
So besides the drum line this weekend, which is still happening up and down the Delaware Bay beaches and the ocean beaches.  The black drum have also been caught from Fenwick to Cape Henlopen, including Dewey Beach.  A few were caught at the Indian River Inlet, so I would not be surprised to see a few show up at the ditch at Masseys Landing and the Inland Bays.  Just a heads up but the creel limit on black drum is now sixteen inches and three fish a day per angler in all Delaware tidal waters.  Bluefish have been hot and heavy at times at the Cape Henlopen Pier and upwards of five pounds.  They are showing up on all of the beaches averaging twenty inches.  Saturday at the Indian River Inlet shorty striped bass were heavy for close to an hour in the early morning.  Steven Williams was catching one after another on 1/4 ounce bucktails with a white worm.  When he switched to a one ounce bucktail and got under the striped bass, there were nice sized blue fish to boot.  It was a crazy weekend for fishing.  Flounder have been all over the bays, Lewes Canal, and a few in the surf.  Chartreuse or pink gulp have worked well and minnows.  The largest flounder so far I have heard about was just over seven pounds, that is a nice little doormat.  Tautog has been great at the outer and inner walls and just about all of the sites in the Delaware bay.  The Indian River Inlet is seeing a good frequency of tog catches, and of course green crabs for bait.  Puffers were being caught over the weekend on fishbites bloodworms and squid.  Mostly on the ocean beaches like Delaware Seashore State Park.  I am sure we will see them in the inland bays very soon.  Striped bass are still in the Delaware bay and heading out soon after spawning, as well as the Chesapeake bay so we should see a good bite from them for a couple more weeks at least.  Hope every one has a great weekend, and we will see you in the sandbox.  Go fish a catch!
Fish On!!
Rich King