Remote Cameras Catch A Difficult Shot
Saturday, February 19th at noonish, NASA lit a candle. Antares headed towards space to rendezvous with the International Space Station. Another successful resupply mission for NASA, Northrop Grumman, and The Wallops Island Flight Facility Crew. Congratulations to all for a successful launch.
Due to covid restrictions the media has less access. There aren't tours of the facilities these days to feed our inner nerd, but we are still able to sign up for remote cameras at the launch pad or viewing access. Remotes please! This is one of our new addictions. Getting the shot at the launch pad with remote camera set ups. This is harder to do than noodling a bluefish.
If you are a serious fan of second guessing yourself fifty times in an hour only to go back to your original settings. Remote rocket launch pad photography is for you. The goal is to get a shot of the rocket as it leaves the pad, while you aren't there to take the shot. There are dozens of factors to consider to set up the cameras to take the shot. The advanced remote money shot is to get the engines in full blaze, which is the hardest shot to achieve. There is weeks of preparation for an hour of set up for a few second shot window.
We started small a couple years ago with some Go Pros and still cameras. Everyone thought the go pros were nuts until they saw the footage and pictures. The bucket of sand for ballast was a little over the top too and was dubbed R2D2 by the folks at NASA.
Now many of the pad photographers are adding a Go Pro to their arsenal. The Go Pro Hero Max 360 camera takes crazy cool footage.
One issue is you need at least thirty six hours of battery back up. Modifications are made to the Go Pro housings to accommodate external power sources. A deep cycle car battery does wonders and lasts for days. Once we set up the still cameras and Go Pros it is just wait and hope everything does what it is supposed to do. The waiting game will drive you crazy.
Just like how it feels when that big fish gets away, not getting the shot is just like that. No matter the cause you blame yourself, or the fish. Mostly that stupid fish. Technology fails all the time it is part of the game. It isn't like you can ask NASA to do it over again. If you miss, you wait six months.
Now the still camera placement for the money shot, the engines in full blaze. Cody only brought one camera for this attempt. Basically he is trying to take a picture of an upside down roman candle that is as bright as the sun in the middle of the day with overhead sunlight, and happens to be moving at an incredible speed. You will get four to five frames if you are lucky. The camera is triggered by sound. In the same amount of time the Go Pros will get three frames.
The camera settings are the guessing game, which are second guessed up to the last second. Then changed again at least five times before you leave the pad. You can't come back.
The ultimate did we leave the oven on, but can't go check. Nerves are now shot for the next twenty four hours. If she scrubs, we might have enough juice for another day. Sometimes you can return after a scrub to repower and reset. We place cameras based on the wind direction predicted for the launch day. We don't want the camera covered in smoke before it can shoot the engine. If she scrubs all those parameters change and you are kind of stuck if you can't reset.
Weather is a huge factor for remote cameras. The temperature as well. Antares tends to launch in the dead of winter and summer. Two completely different or opposite weather situations. It makes it a real challenge for all the rocket photographers. Our friends from out of town all talk the next days' weather. We just laugh. Y'all know you're in Delmarva right?
What's that mean?
You'll see in about fifteen minutes.
These folks have all kinds of set ups to control temperatures and deal with the weather and shockwave. That rocket engine blast can really pack a wallop. We use large spikes to hold down cameras, five gallon buckets of sand for ballast, sometimes we just tie the rig to a pole. Cameras are packed in tool boxes and mail boxes with temperature and moisture control devices. We used trash bags the first launch to protect the cameras. Just wrap it up and duct tape away. Honestly it is easier to toss a bag covered in fuel goo than clean it off a box. The Go Pros help take a lot of the big set up needs out of the way, but have their own issues in the field. Jon had one with a solar light yard spike. Took about a minute to set. One thing we learned with the Go Pro Hero 360 is when it is on standby to turn on at a specific time it burns up power and kills the battery.
On Friday afternoon Cody Croswell and I set up the cameras. We had three Go Pros and his one still camera, he wanted to try an engine shot. A lot of quick planning for placement on the way out, witth a few settings changes on a recommendation from Jon Reino, Spaceflight News. The still camera was set, and we placed the Go Pros. Now we wait, please don't scrub, only two cameras have enough juice for two days.

Antares launches on time the next day. I meet the pad crew and we head out to retrieve our gear. We are escorted onto the island by our NASA guides. It is really cool to be able to drive out onto the island. Seriously it is really exciting and for some reason we all get giddy about it. The Wallops Rocket Chasers are a fun group.

Getting a picture of your vehicle near a rocket is a bonus for sure. The thrill for the people working there is minimal by now I am sure, but for us nerds it is glorious. I check to make sure all the cameras worked, some still have power for hours to days. One Go Pro looks like it may have gotten spun by the wind. I have a fix for that for next time.
I don't even look at the footage, I will wait until I get the gear to Cody. I just confirm we have files and footage to calm my nerves. Time to head back to Delaware.
Later that night I get a message with a single picture. I jsut stare at it intently for a full five minutes.
It.
Is.
Amazing!
Cody Croswell nailed the Antares engine shot. He has achieved great shots in our past pad ventures, but these shots are on point. I don't think it could have been any better. I'm kidding it is photography we always look for better and hate the current.
The Go Pro 360 footage is amazing too and the video is at the bottom. A very successful launch for all of us rocket pad photography nerds.
Thank you NASA!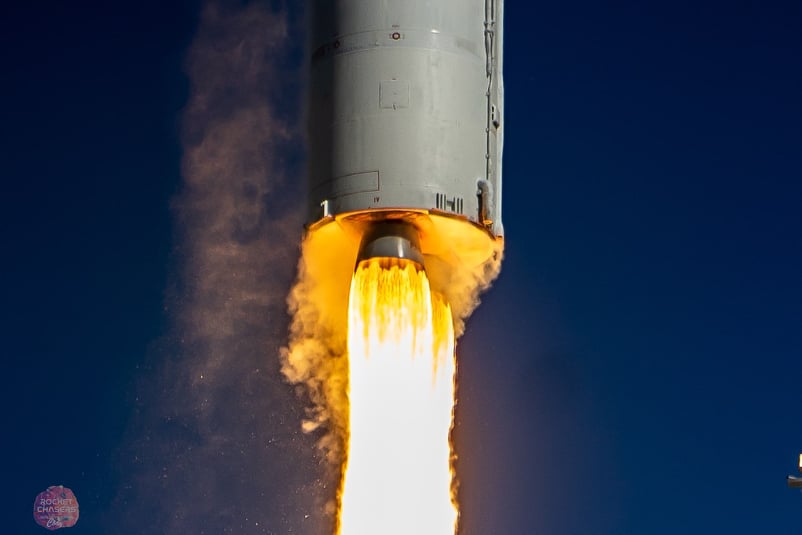 GoPro Hero Max 360 Timelapse at NASA's Wallops Flight Facility: Antares NG-17
The Remote Cameras Catch A Successful Antares Launch

Antares Launch Success And 49,000 Pictures Later

Watch Antares Rise Up On The Pad

Antares Set To Launch Sunday And Our Remote Cameras Are Ready!

Shock Collars, Bomb Dogs And….. NASA?

We Have Lift Off Antares Carries The Last CRS1 To Space